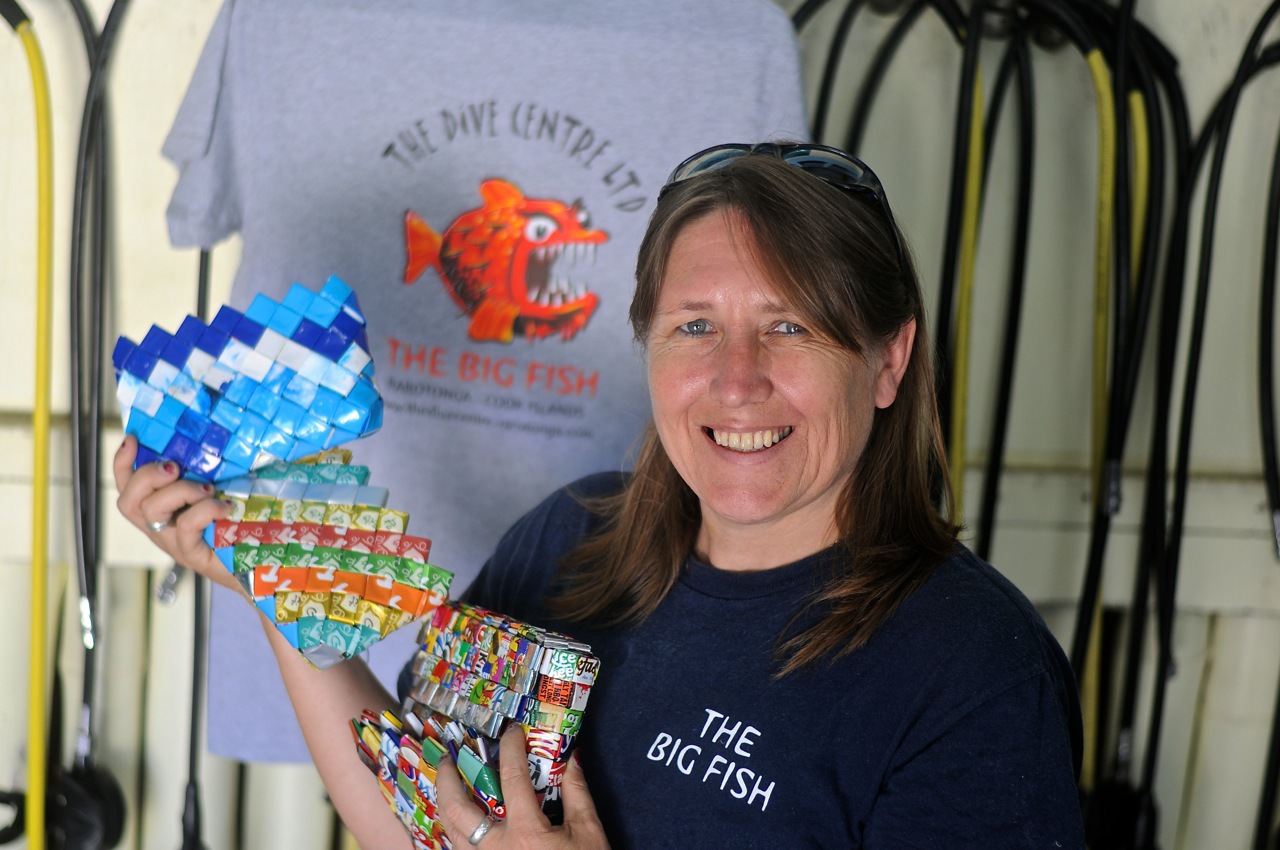 Chair of the Te Ipukarea Society Waste Management Committee, Sabine Janneck from the Dive Centre (aka the Big Fish) adjacent to the Aroa Marine Reserve, is determined to lead by example when it comes to making the most of rubbish and litter.

Well-known Cook Islands 'eco warrior' Sabine is also the leader of CIRCLE, an acronym for Cook Islands Recycling Creations Living Environment, making fashion items from local man-made litter, particularly lolly wrappers and plastic rubbish that would inevitably become submerged in Rarotonga's already full landfill.
"Since I began making bags and wallets last year, I am surprised that they have
become fashion items – everyone seems to wants one! I have customers buying five at a time. I can hardly keep up with demand, also working seven days a week at the Dive Centre," said Sabine.
Now she mostly makes items by order, though there is always items for sale on display in the Dive Centre, including wallets, coin bags, telephone covers, clutch bags, small boxes and cushions. Prices range from around $50.00.
"The plastic for the items is collected by myself and others. We clean and cut it by hand into certain pieces. Then they are woven together in rows, and then sewn together by hand. It's quite labour intensive!"
Ipukarea, as in Te Ipukarea Society, literally translates as 'our heritage', and the Society's mission is to promote balance and harmony in the Cook Islands natural environment. There are two important projects the Te IpukareaSociety is working on at the moment. One is getting rid of plastic bottles to NZ for recycling. The other is banning polystyrene and bringing in more biodegradable products.
Both keep Sabine and the Society quite busy, but Sabine said the Government is quite supportive of their projects.

Sabine, now a Cook Islands plastic garbage 'fashionista', also offers some critical advice to visitors who want to do their bit to help protect Rarotonga's lagoons: "First, please don't feed the fish - that has a big impact in killing the reef. If the fish don't clean the coral, the coral can't reproduce properly. Another thing is not
to walk on the reef! If you need to stand, find a sandy spot, as coral is live animals. Our hands can kill coral too, so please don't touch!"

View CIRCLE on Facebook, or visit The Dive Centre at Aroa Beach to appreciate the fashion items.
Share this item