"For me cooking for somebody, giving them a good meal and making them happy, makes me feel proud".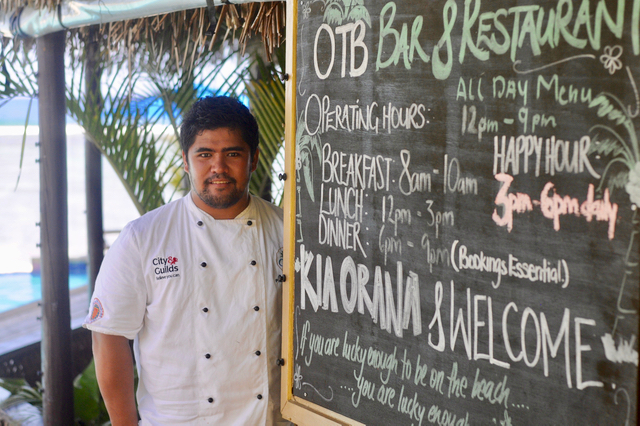 Earlier this year, the Cook Islands Chefs Association and the Cook Island Tertiary Training Institute, in conjunction with La Chaine des Rotisseurs, organised the 'Young Chef of the Nation' competition for young chefs in Rarotonga to demonstrate their talents.

The winner and gold medalist who emerged was 22 year-old Puka Puka-born Ngmatua (Tua) Ngaro Tariau from On The Beach Restaurant at Manuia Beach Resort.
In September, Tua will compete in Frankfurt in the 'Chaine des Rotisseurs Chef of the World Competitions in Frankfurt 2017' against twenty international chefs in a prestigious and high level competition for 'Young Chefs in the World'.

Puka Puka is a small, sparsely populated coral atoll in northern Cook Islands with around 500 residents. Tua moved to New Zealand with his family in 2005 after experiencing a cyclone.
"We were in NZ about five years. In 2011, I decided to come back to Rarotonga, where I finished school," said Tua.
Tua said he had always enjoyed cooking at home with his mother, so he chose to train as a chef once he had left school.
"I did my training at the Cook Islands Tertiary Training Institute in a one year course. I worked at Club Raro for two years, part of the time whilst I was on the course, then I moved to Salsa Café in town," said Tua
"During the course, in 2014, I was invited to attend the Cooking Guild Team of the Year competition in New Zealand. The school paid for a team of three to do the trip. We won bronze. There were ten teams in the comp, most of them professional chefs. We actually came second, as the winners only won silver".
Tua acknowledges his mother as being his inspiration to become a chef.
"I always had a good feeling when I cooked at home with my mother - traditional cooking style - that is why I became a chef.
"I really like doing fish dishes, especially using traditional style of cooking that is underground or just steaming it in rocks, or putting the fish on the live fire. Personally, I like small fish like parrotfish and trevally. I like fish and all the traditional foods like taro'"
From Salsa Café Tua moved to The Islander Hotel when they first opened three years ago.

"I worked there for a year, then I went to Atiu for a year where I have some relatives. Tumunu is good fun there. When I returned, I went back to Salsa Café. The owners, Gerrard and Erika, introduced me to Sue Welsh at Saltwater Café and I ended up working for her for a year.
"For me cooking for somebody, giving them a good meal and making them happy, makes me feel proud.
"Competitions are important too because I like to challenge myself, to test what I have been training on."
Tua has been a paid chef now for five years, but during the interview he revealed another goal.
"My dream as a boy was actually to be a pilot. My love of flying started when I was little travelling on planes from Puka Puka. I still dream to be a pilot one day."
But in immediate future Tua said he would like to be able teach young people what he knows.
"I'd also like to travel to get more experience. I'd like to go to Asia to see their different techniques. Maybe then come back to New Zealand to work, and maybe also study to be a pilot
Good luck in Frankfurt Tua!

Share this item