We asked the Wedding & Events Department at the Muri Beach Club Hotel a few questions about getting married in Rarotonga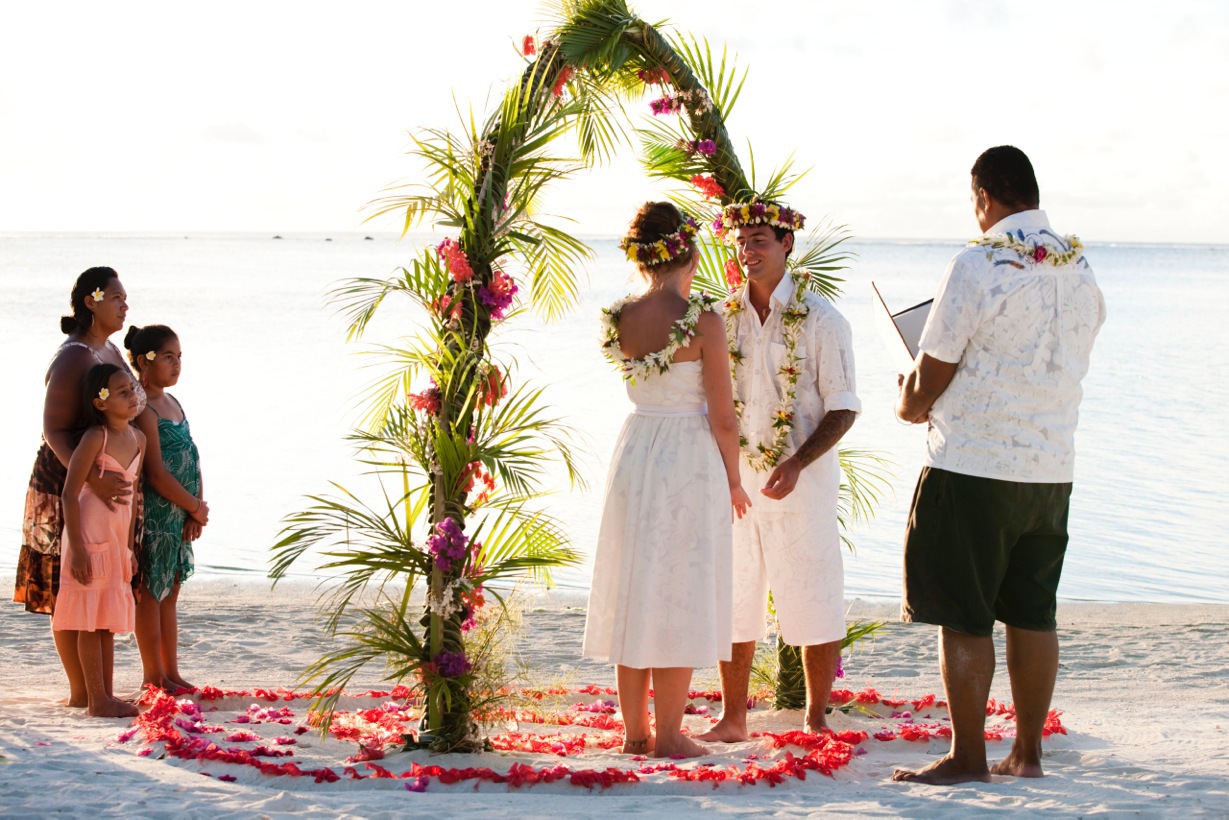 "Choosing a 'Destination Wedding' means no stress, just having to show up, and enjoy the best moment of your life. Embrace the culture of the Cook Islands, immerse yourself in the beauty of the land and lagoon, engage the hospitality of the people, and let this be the backdrop of your ideal wedding, your dream wedding, here in Rarotonga!"

(*Prices here were correct pre-COVID, so please use prices mentioned only as an indicator post-COVID).
What are the advantages of getting married in Rarotonga?
For New Zealanders it's perfect! We are only a few hours away and we operate in New Zealand Dollars. For others from around the world Raro is still the perfect place for a Destination Wedding: it's a tropical paradise where you, your family and friends can combine a memorable wedding with either a tranquil holiday, or an action packed one! Also, filing for the paperwork is so much easier as you only need to be on the island at least 3 working days prior to your set date, and you only need a couple of documents; once the ceremony is over you are legally married, which is internationally recognised.
What are the legal formalities for getting married in Rarotonga?
As long as we have a copy of your passports, birth certificates (in English), and if necessary divorce papers or death certificates, we can apply for the marriage licence. The Registrar requires at least 3 full working days prior to the date set for the wedding for us to apply for the marriage licence; it can be done within that time but we need to pay a waiver fee, which is an additional $75. The couple also both need to be present, as they are required to sign the paperwork in front of the registry staff. Unfortunately, at the moment, we are legally not allowed to marry same sex couples on the island. Other things that need to be considered are the celebrant and location of the wedding, as these details are vital for the marriage licence.
What wedding support services are available?
There are so many service providers on the island who offer the most professional of services including florists that have such a beautiful eye for detail with the arrangements of the local flowers that suit the occasion, and the budget. There are excellent photographers to capture the moment; and the hair and makeup artists that find the natural beauty of a person without making you look, or feel overwhelmed. There are an abundance of transport providers if you wanted a scooter for two, a tuk-tuk for six, a van for 12, or a bus for 30. This is the great benefit of such a small island community that they truly care and you feel the warmth and embrace the spirit of everyone trying to make sure your wedding day it your dream come true. The best thing is that wedding organisers like me are here to support you, help you, and organise everything for you.
What factors determine the overall cost of a wedding in Rarotonga?
Airfares and accommodation are the main factors, however once you add into the equation the wedding package, any additional services not already provided for such as photography, hair and makeup, a little entertainment, then these add to the cost. For example, Muri Beach Club Hotel have tried to help make things a little more economical by providing an 'All Inclusive Package', which is for 30 friends and family for $6999 (NZD) that includes the ceremony and paperwork taken care of, reception venue, lead in buffet for 30 guests, standard drinks package for 3 hours, single tier cake, and of course for you - a 30 minutes couples massage. As an extra incentive we can top this off with 5 nights in a beachfront room if you have friends and family stay with us for a total of 15 nights.
Describe MBCH and its packages offered for weddings groups and honeymoons
We are an adults only boutique hotel set on the white sandy beach of the Muri lagoon. On the shoreline of the lagoon, with the ocean and little islet providing the backdrop for the perfect wedding ceremony, you can get married with the sand between your toes. With a choice of your reception venue we set up with your vision in mind. From two guests to 120 guests we are here to make memories for your wedding day. The 'Club Classic Package', which is your ceremony covered for $1199 you can have this for an intimate ceremony for two or add on to this package additional services for a larger group. If you want a no fuss wedding and have up to 30 friends and family, we offer the 'All Inclusive Package', which as the name suggests. If by chance you are already married and have been within six months we offer our 'Just Married Muri Magic Package', whereby if you stay with us for 7 nights you can take advantage of this awesome deal which includes, a picnic lunch day, breakfast in bed day, and of course a pampering for 30 minutes in our spa with a blissful 'couples massage'. We have a comprehensive wedding booklet that has more information about our services that I'm happy to mail to you. Nothing is too big or too small, we can control just about anything except for the weather!

For more information?
If you would like to know more about getting married at the Muri Beach Club Hotel, email operations@muribeachclubhotel.com, or call +682 23000, or +682 76293. www.muribeachclubhotel.com