Claire Wilson is the wedding and events manager at the Muri Beach Club Hotel; a Melbourne girl who fell in love with Rarotonga and its people. She's 'living the dream' organising special moments in Rarotonga for people from all over the world. We asked her about 'getting married in paradise'.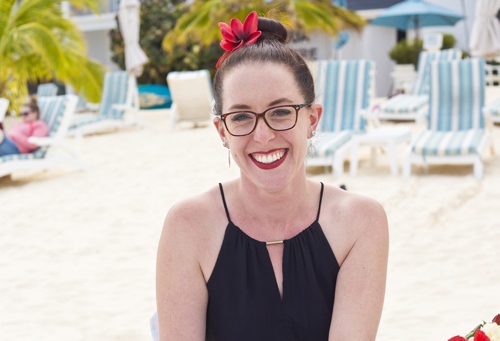 What's so attractive about getting married on Rarotonga?
Rarotonga has some of the world's most beautiful beaches, and it is less expensive than people think. The island has a relaxed peaceful feel to it. The people are friendly and accommodating, and no request is too hard. Perfect for calming a bride's nerves before the big day!

What formalities do we need to know about getting married on Rarotonga?
Rest assured that your marriage license and certificate are internationally recognised. To apply for the marriage license the Registrar requires three full working days. Take this into consideration when booking your flights. The cost of the license is $100 and $25 for your certificate. You can pay a waiver fee of $50 to speed up the process. The Muri Beach Club Hotel has a full-time wedding coordinator (me) to liaises with, and to organise everything from paperwork to details for the wedding day.

Is there a 'best time of year' for a wedding in Rarotonga?
The weather in Rarotonga is suitable for weddings most of the year, but as this is a tropical island be prepared for seasonal variables, including rain and humidity. The 'ideal' times are from end of February to May and, September and October.

Is there a 'best time of day' or 'best day' for a wedding in Rarotonga?
This depends on what sort of wedding you want. A sunrise wedding can be a lovely way to start the day. In the afternoon, the best time is from 3pm onwards when the sun isn't so harsh, and the day starts to cool a little. This gives you time to have sunset photos, canapés and drinks on the beachfront. The best day of the week is probably a Thursday in the evening. That allows for three working days before the wedding, and it leaves you free to enjoy Friday and Saturday.

What support services are available on the island for weddings?
For a small island there is an amazing number of excellent professionals from hair and makeup artists, to photographers and video companies. The makeup artists use products such as MAC makeup. There are plenty of transport options including shuttle buses, taxis (maxi's included), car and bike rentals companies, as well as a electric tuk-tuk chauffered wedding limo service. The florists on the island are highly skilled and there are lots of beautiful tropical flowers; florists will import flowers if requested.

What factors determine the overall cost of a wedding in Rarotonga?
The major costs to consider are airfares, accommodation and the wedding package you select, and then the additional services such as photography, hair and makeup, flowers etc. Some hotels offer good value wedding packages, for example, Muri Beach Club Hotel has five nights free accommodation included in their '$5999 All Inclusive I Do Package' when the wedding guests book a combined total of 15 nights' accommodation! Excellent savings to be made!

Are other islands worth considering for a few days after the wedding?
Definitely, if you have the time! Aitutaki is stunning and there are day trips on offer. Ideally, you should spend a few days unwinding in Aitutaki after the wedding. It's the perfect spot for a little R&R.

What is the most economical and trouble-free way to get married in Rarotonga?
Knowing what you want before you begin; the colours, numbers in bridal party etc. Do your research thoroughly.

What is the first thing we should do if we want to consider getting married in Rarotonga?
Get a good idea in your mind of your ideal wedding. Research a number of businesses with dedicated wedding coordinators who can answer any questions you may have. Whilst it can feel like a good idea organising everything yourself, this can become an added stress that you just don't need. It's nice to know there is someone there to dot the I's and cross the t's, helping you every step of the way.

What else do I need to know?
Know that 'island time' is a real thing here! Do not panic if you don't receive responses within the hour! Everything works out in Rarotonga; it is a great place to get married! There is something here for everyone: churches, beaches, mountains, gardens, lagoons, you name it. Just go for it! You will have the wedding of your dreams. We recommend choosing a wedding coordinator for your big day; they take all the stress and hard work away
https://www.facebook.com/Muribeachclubhotel