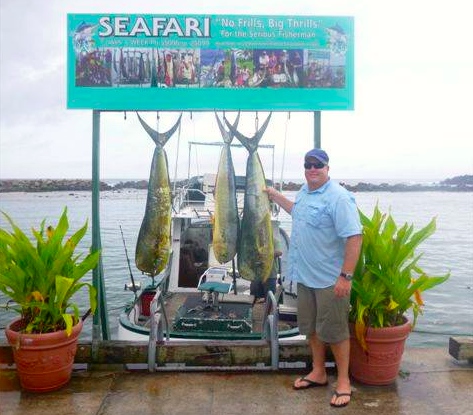 Seafari is Rarotonga's longest operating charter boat. Based at Avatiu Harbour, its owners, Kevin and Sharon, answer a few 'frequently asked questions' about fishing charters around Rarotonga.
What is the length of typical fishing charter?
4.5 – 5 hours
What is the most common game fish caught off Rarotonga?
Depending on the season, but mainly mahi mahi, wahoo and yellowfin tuna.
Do anglers keep all the fish they catch?
Most times some of the catch is shared between those that are fishing so they get to take some back for a meal.
Which is better for game fishing, morning or afternoon?
It doesn't make much difference. All species are caught at most times of the day.
Will it be rough on the open ocean?
Depending on the weather and winds. Some days it can be like a millpond with a slight wind chop. There are no little islands to shelter around so we are always exposed to the elements.
How many people can be on the boat at one time?
There are various charter boats. Some take two anglers, some up to 30. Talk to the skippers and see what they have to offer. You are often able join a shared charter. The prices vary from boat to boat.
Do anglers need to be experienced in game fishing to charter a boat?
No, the crew does all the work. Boats come with experienced skippers and deckhands.
Are children allowed on a charter?
Some boats cater for children, others have an age specification.
What is food and beverage is provided on a game fishing charter?
This varies with the charter boat, but most provide light refreshments. All boats provide water. It is advisable to check what is provided before you commit to the charter as there can be a difference. More than likely you could expect sandwiches at the least!
Can anglers charter on a rainy day?
Yes, the fish don't mind getting wet!
How far out do charters go?
We are fishing the moment we leave the harbour - 300m out is 300m deep, so there is no travelling times to fishing spots. The furthest charters go out would be 10km tops!
What safety equipment does a charter carry?
All fishing charters that are accredited have standards to meet. Check to see if the charter boat is accredited. All boats have the standard lifejackets and radio equipment.
What are the best outcomes an angler can expect on a good day's fishing?
That depends on your expectations! On a good day, the island is spectacular from the water, and there is also the whale season between July–September. Marlin are here November through to March. Most anglers are thrilled to get mahi mahi, or just to catch a fish and have something to take back for a meal
Share this story