"Bon Appétit"

Young French couple Karine and Guillaume Kapfer are passionate about good food and good service; their innovative Rarotonga restaurant, Le Rendez-Vous Café and Bistro, celebrated its first birthday in March reflecting their dream to offer locals and visitors the tastes of France in their new home in the Cook Islands.

The success of Le Rendez-Vous Café and Bistro has been the result of personal dedication, and the unfaltering love of French cuisine. Today, many would say that a trip to Rarotonga is not complete without a breakfast, lunch or dinner at Le Rendez-Vous.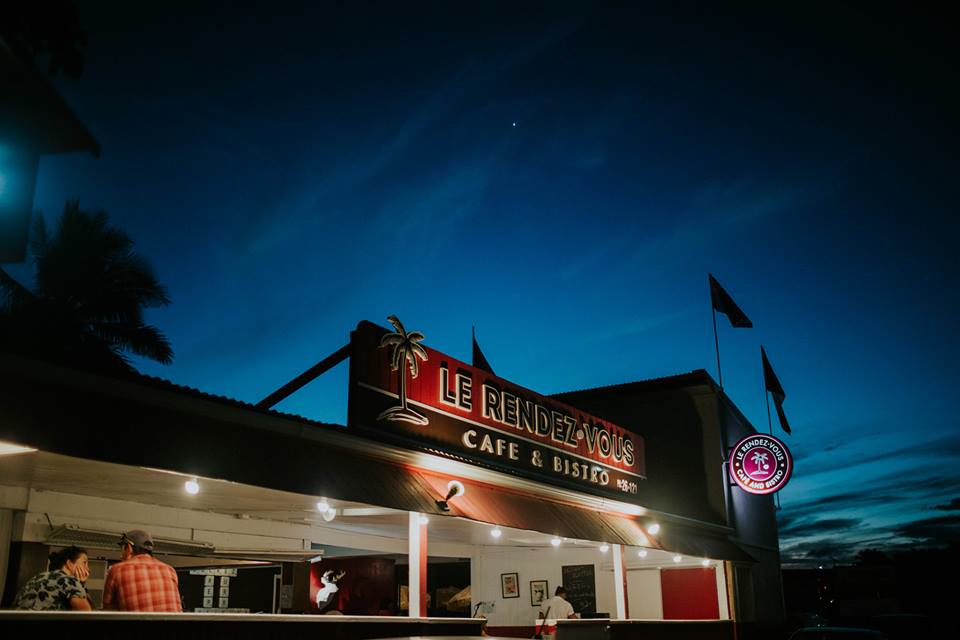 Located on the main road adjacent to Rarotonga Airport, Le Rendez-Vous was transformed by Karine and Guillaume through redesign and renovation from what was a well-known venue called Nu Bar.
Karine and Guillaume first met in their home town of La Rochelle on the west coast of France ten years ago, but didn't get together as a couple until five years ago, when they married and had Gabrielle, who is now three.
Karin was in real estate sales and Guillaume was sales director in a printing company.
"We got together in January and I asked her to marry me in March," said Guillaume.
"After working in our jobs for over fifteen years we decided we wanted something different, especially for our daughter who was born in La Rochelle.
"We travelled a lot together, including to Indonesia, Mexico and Scotland, looking for that somewhere different, but it wasn't until I came here body boarding that we decided the Cook Islands was for us."
Karine and Guillaume looked at various businesses in Rarotonga, including accommodation, but they didn't want to put everything they had into one business. Then they found the Nu Bar business.
"This was the right place for us. It wasn't too big, so no big pressure!"
They redesigned and renovated Nu Bar, and renamed it Le Rendez-Vous Café and Bistro.
"We called it Le Rendezvous because it means 'the gathering'; gathering with friends or if you are dating someone," said Guillaume.
"It has worked out because people come for breakfast and lunch meetings, and couples and families for come for lunch and dinner.
"We are serious about the cooking. Our head chef is Marie Andrew from New Zealand. Everything is handmade and healthy. We make everything onsite except the vanilla ice cream! Everything is made here – the pasta, the bread, the pastries, and, of course, our crêpes".
Recently Le Rendez-Vous launched a new menu. In the menu's welcoming comments, Guillaume states:

"The subtle beauty or preparing and enjoying good food have always been central to our lives back in France. Keeping it simple and fresh is the key. This is why our menu is short."
The new menu speaks for itself. In edition to a scrumptious selection of crêpes, Le Rendez-Vous offer a 'snacks and flight bites' and a 'kids' menu; but it's the French-inspired, simple and tasty, 'bistro menu' that appeals: from Vegetarian Ratatouille Pasta, Beef Ragoût, Fish of the Day and The Steak, to the 'Butcher's Choice.'
The yummy desserts are predictably French in style and taste. Wines are from France and New Zealand, with French Champagne available by the glass or bottle.
The main menu aside, if you are just passing Le Rendez-Vous during the morning, drive in and try their delicious range coffees and teas, and importantly try their wonderful pastries, made with a touch of France
T: (682) 26 121
www.facebook.com/lerendezvousrarotonga/
Share this story