First appointed in 2009, then reappointed in 2011, the Cook Islands Police Commissioner, Maara Tetava counts the restructuring of the Cook Islands Police Service, the passing of the new Police Act in 2012 and the introduction of the Police Code of conduct as some of the progressive steps that have taken place to enhance the Cook Islands Police Service in the last few years.

During his tenure, Commissioner Tetava has also forged strong working relationships with the New Zealand Police, Australian Federal Police and Pacific Policing services, which have resulted in their ongoing support to the Cook Islands Police Service.
Originally from Mitiaro, the smallest and least populated island of the Southern Group of the Cook Islands, Commissioner Tetava, was schooled there and in Rarotonga before heading off to New Zealand to complete his secondary education. From a young age, he wanted to join the Cook Islands Police: "…but my mum thought otherwise, so I worked in the Post Office for five years, but I eventually signed up for the Police when I was 23, that was in 1985."
"I started 'on the beat', in traffic section, and then moved onto the detective branch – where I really wanted to be! I trained locally, and overseas with the AFP (Australian Federal Police) and New Zealand Police.

In the detective branch we dealt with serious crimes, working closely with Crown Law solicitors prosecuting, so it was a natural progression for me to go to Law school," said Commissioner Tetava, who went on to gain a Law degree and his Masters in Law. He was also admitted to the Bar in New Zealand and in the Cook Islands.
"When I returned from Law school I did some prosecution work, before taking charge of the Police's legal section."

He continued to be promoted reaching the position of Deputy Police Commissioner, and ultimately, in 2009, to Police Commissioner. Not bad for a boy from the island of Mitiaro!
Today, married to Kai, he is the proud father of three children and four grandchildren.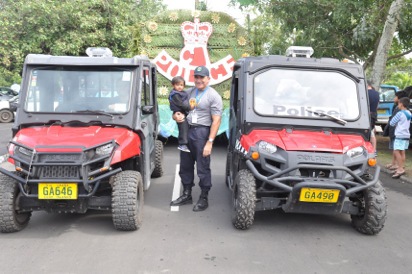 Commissioner Maara Tetava resolutely believes in treating locals and visitors alike when it comes to the Law.

"The biggest challenge for me is to make sure we are doing the right thing all the time, especially engaging in more prevention work and working in partnership with those who are willing to help reduce crime and keep our nation safe."
When it comes to visitors that is primarily petty crime.

"From stealing valuables under the seats of motor bikes, to people leaving valuables in their vehicles, or on the beach when they go for a swim. We have a prevention team that goes around the island to hot spots and beaches, mainly in plain clothes, but also uniformed.

"We are a friendly place and our people are hospitable, but don't let your guard down. Apply the same security precautions that you would at home".
Under the Commissioner's leadership, the Cook Islands Police Service also coordinates the National responses to emergencies including cyclones, tsunamis, and search and rescue operations.

"The Police Service in the Cook Islands has a staff of 107, which includes our civilian personnel who free up police officers from many administration duties so they can be out there doing regular police work.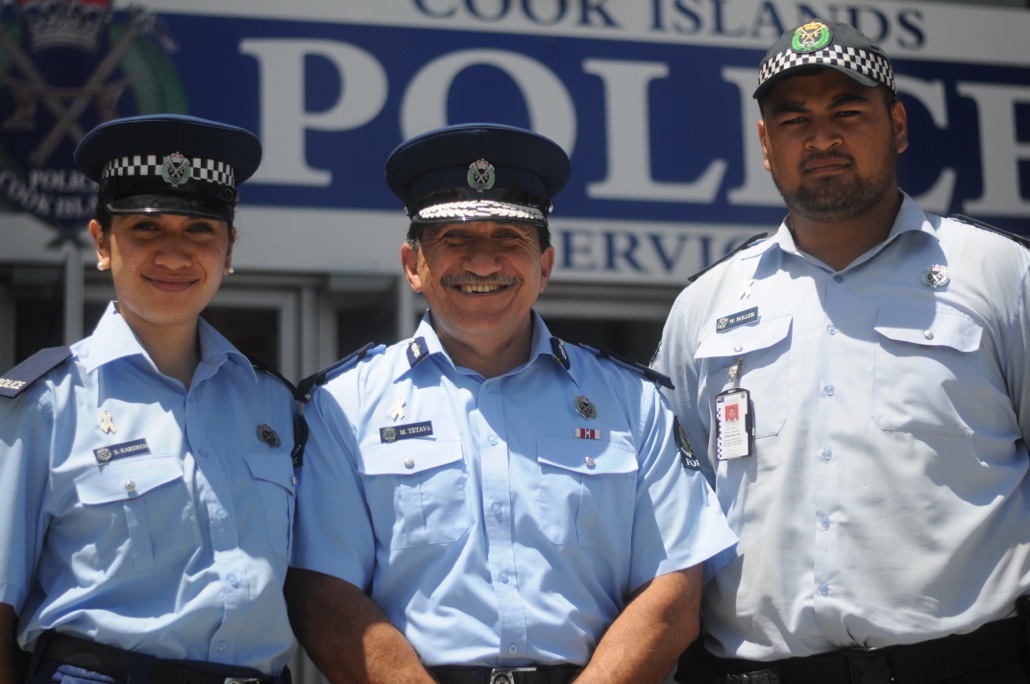 "Bike rider licensing is a concern for us. We are not where I want it to be right now, so we are revamping our licensing system to ensure that riders are more competent before being issued a Cook Islands bike license.

"I want new riders to engage with a rider-skill course for an hour or so, before heading on to the roads. Initially, we are going to kick off the program ourselves, but eventually we would like the private sector to take it up".

Speeding is also a concern for the Police with both visitors and locals.

"We have speed radar machines in use around the island, but a bigger concern is the overconsumption of alcohol, then driving, which is probably not what visitors would do where they come from!

"We do not target tourists; we target anyone who is not fit to be driving a vehicle on the road. Drink drivers can have their vehicles confiscated, and the driver can be placed in custody, held overnight, or bailed out."
"Motor cycles accidents often cause serious injury or even fatalities. Speeding and drinking are often contributing factors to these accidents."

Visitors from NZ, Australia, USA, Canada, UK and the EU can drive in the Cook Islands using their valid overseas license. If their license doesn't cover motorbikes, then visitors need to apply for a bike license at Police Headquarters, and a driving test is part of that process. By law, a helmet must be worn when riding a bike in speed zones above 40km/h, specifically in the 50km/h speed limit areas.
Another area of concern for the Police is water activities in dangerous parts of Rarotonga's lagoons.

"Be wary not to wade out, swim or kayak too close to where the lagoon meets with the ocean, because the current can be very strong and dangerous with rips and swirl pools. Seek directions and advice from those familiar with the lagoons including accommodation staff, dive shops or locals. And, take note of signage on certain lagoon beaches warning about currents, rips and heavy seas.
"We operate 24/7, so when people call 999 we get the calls and direct the emergency to the Fire Service, Ambulance or Police. Police Headquarters in Avarua is always open. We have police stations at Muri and Arorangi that work until 11.00pm.Visitors should call 999 for police emergencies, or 22 499 for non-emergencies. Also, call Crime Stoppers on 0800 22 200, or to report dangerous driving call 995.

The Cook Islands Police Service operates 24/7 search and rescue, for people who go missing whilst hiking: "My advice to hikers is to plan your trek well, or go with a tour guide.

Importantly, leave in time to get back in daylight. Head out in the morning, not at 3 or 4 o'clock in the afternoon!"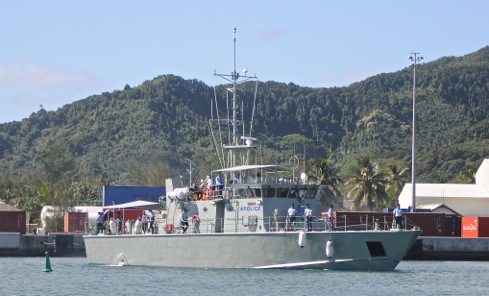 One of the public faces of the Police Service is the patrol boat CIPPB Te Kukupa often moored in Avatiu Harbour: "We were given the patrol boat in 1989 as a gift from the Australian Government. It is deployed mainly for fishery enforcement, search and rescue, and regional missions - we work closely with regional partners such as Samoa, Tonga, French Navy, US Coastguard, New Zealand and Australian Defence Forces in fishery patrols". We continue to deliver a very strong and effective Maritime surveillance and enforcement program because of the outstanding support we have and continue to receive from Australia, New Zealand and our successive governments.
The Cook Islands Police Service has come a long way under the leadership of Commissioner Maara Tetava, but where to from here?
"Stronger crime prevention programs is a priority, together with strengthening and developing partnerships with local communities, and internationally. We will be working on improving our laws and practices, and building the capacity of our people through training programs and work attachments.
"We will constantly review what is working and not working. We're always looking for good ideas to do things better!" The ultimate goal will always be to keep our people and those who visit us safe.

https://www.facebook.com/CookIslandsPolice/timelin...
http://www.police.gov.ck
Share this story