"One of the best things about living in Aitutaki is the freedom"
A chat with Quinton Schofield, operator of the locally-owned Aitutaki adventure business Wet & Wild.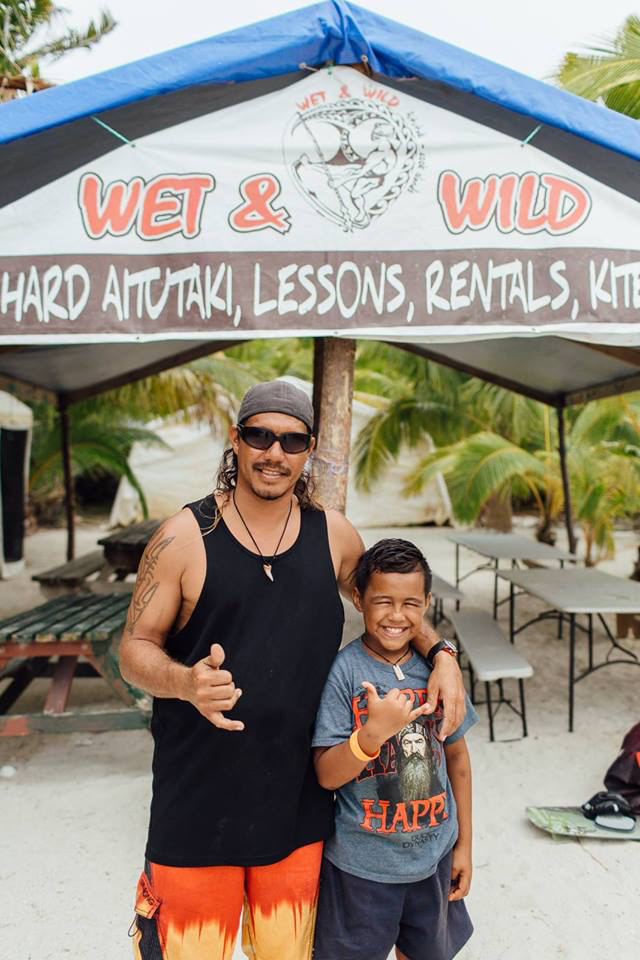 Tell us about your connection to Aitutaki

My connection to Aitutaki comes from my mother and her Aitutaki bloodline. Even though she grew up in New Zealand, it was her dream to come to Aitutaki and live. My father is from Australia, where I was born and grew up. They met living and working in New Zealand, then moved to Australia, and then Aitutaki. It's great to have family and friends everywhere. I enjoy the best of three different worlds. I have been here for 19 years now.
Why and when did you start Wet & Wild?

I started Wet & Wild a few years after I moved here. I used to help out Dad with building the bungalows at Ranginui's Retreat in Ootu Beach, where our land is, and where we live. It was Mum's dream for the family to move back to the Aitutaki together and build this place. We are happy she got her dream before she passed away, which is why on the front of the sign at Ranginui's Retreat it says Moe Moe a Moana (Moana's Dream).

On the weekends, when Mum was alive, I'd go out on the cruise boats that were operating at the time: Bishops, Paradise Island and Kit Kat cruises. I loved the job and life the crew had working on the best lagoon in the world: every day snorkeling, swimming with the fish and turtles, and visiting the motus (little islands).

I'd think to myself: "Man, I wish I could do that for a permanent job". Then a light went on in my head: "You can do that! But, what can I do to set myself a part from the rest".

In Australia, Dad had taken us fishing, hunting and camping. We grew up in and on the water. So I decided I wanted to blend everything in together fishing, water sports, with the beauty the lagoon had to offer. There were only two commercial fishing boat operators at the time, Foxy Lady and Baxter's fishing boats. There was plenty of room to introduce more activities for tourist to enjoy. Now I do all the things I love to do, and I make a living from the business! It was difficult at the beginning. We opened and closed the business a couple of times, as it was not yet the time of the tourist boom we had all been waiting for.
Tell us about what visitors can do with Wet & Wild

Visitors can do just about everything with us including deep-sea fishing, spear fishing, kite boarding, wake boarding, water skiing, tube riding, snorkeling, island hopping, sightseeing and whale watching. And, we provide a water taxi service. Anything to do with water and a boat, that's us! All things Wet and Wild!
What makes enjoying the lagoon and ocean around Aitutaki so special?

The best thing about Aitutaki is that is a long way from the rest of the world. It is a beautiful and remote place, with one of the most beautiful lagoons on the planet. When visitors leave, they say: "Oh well, it's time to go back to the real world!" But I think they all have it wrong. I think that this is the real world, and this is the lifestyle we should all have, and this is how it should be. For me, Aitutaki is the best place in the world!
What is the most 'ask for' water experience in Aitutaki?

Because we cater for so many activities and options, clients often try everything they can in the time they have on the island. But, probably the best 'lifetime experience' for those clients who have the opportunity, is swimming with the humpback whales while snorkeling along the drop off of the outer reef.
We're into whale watching season. Does Aitutaki get its share of passing whales?

We have some of the best whale seasons here in Aitutaki. When they are here, we head out each day and have up to a 90% sighting rate! Aitutaki is pretty much their destination. They are not just passing by. They stay for a few months with their calves, always playing and having fun. In the past, we have been really lucky to be able to swim next to these beautiful animals - an amazing lifetime experience - though it is important to be safe and have respect for the whales.
Have you had any humorous experiences with clients of Wet & Wild?

One time comes to mind: we were out fishing, casting for GTs (Giant Trevally) and hooked up on a monster. The guy reeling in the fish got so tired he ended up laying on the deck on his back with his feet up on the side of the boat, and the rod poking out the top of the boat while still fighting this huge GT. I have never seen anyone fight a fish like that before. Not sure I ever will again unless, he comes back (ha-ha!)
Do visitors want private charters or do they ask to share a day out?

The first two years of the business, I would take people swimming with the dolphins every morning as part of my cruise, and would take ten on board. At the time there was no-one advertising private charters, so people started asking me for them and after a while I just went with it, so now I mainly just do private charters.
What do you like most about living in Aitutaki and running Wet & Wild?

One of the best things about living in Aitutaki is the freedom. Having Wet & Wild allows me to do all the things I love, and I get to share amazing experiences with the world, through visitors!
For more:
www.wetnwild-aitutaki.com
wetnwild@raromail.com
+682 31651
Share this story