A relaxing forty-five minute flight from Rarotonga and you are there! Enjoy the popular 'day tour' with Air Rarotonga, or stay a night or two, and more! Accommodation options are available in the Aitutaki STAY pages on this website
Aitutaki has a population of 2000 residents, and no dogs! The island was the first of the Cook Islands to embrace Christianity starting when the London Missionary Society arrived in the early 1800s. Aitutaki has the oldest church the Cook Islands, and some biggest banyan trees!

Recognisable photographically for its wide turquoise-coloured lagoon, unoccupied islets and palm-fringed beaches, Aitutaki is more peaceful and less crowded than its neighbour, Rarotonga. And, it is always a little warmer on Aitutaki!
One Foot Island in the lagoon is one of the most popular places to visit, and for some, to get married. This and other islets offer the finest views of the Aitutaki lagoon. The islets can be explored during a trip on a lagoon cruise.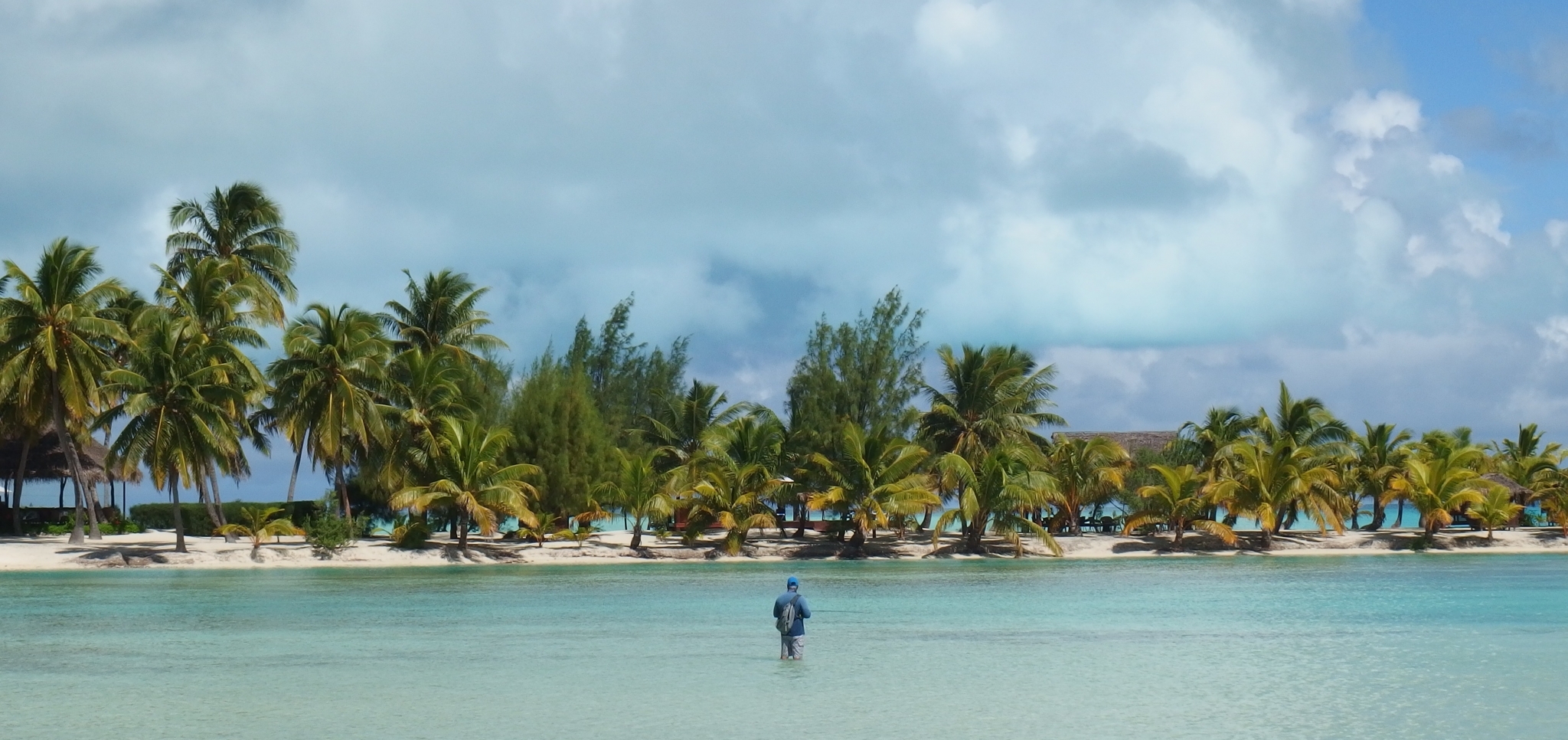 Watersports on all sorts abound, including scuba diving, snorkeling, kite-boarding, deep-sea fishing and bone fishing (pictured above).

Back on land, the island of Aitutaki has an interesting history. There are tours that take visitors to ancient places, exploring the island and learning about the legacy of the American troops stationed on the island during WWII.
Don't miss the 'giant' clams

The Aitutaki Marine Research Center (AMRC) is an interesting place to visit and discover how giant clams are farmed. The introduced tridacnidae clams (aka 'giant' clams) are farmed for sale to overseas aquariums.
Some giant clams are assigned to the Aitutaki lagoon where they are protected under a ra'ui, the Maori term for protection or stewardship. The cruise boats visit snorkeling sites where the clams can be viewed.
This commercial part of AMRC's work helps finance their other conservation projects. AMRC also farms native clams, known locally as pa'ua. These are a much-loved food delicacy for Cook Islanders. You can visit the AMRC on the north end of Aitutaki. (See the Cook Islands Sun Aitutaki map).
For flight information and bookings visit the Air Rarotonga website
Click below to view the current Cook Islands Sun map of Aitutaki.