Q&A with Vodafone
Share your sunny lagoon cruises, local delicacies from the Punanga Nui Market and poolside snaps with Vodafone Cook Islands. Keep connected during your trip with our Travel SIMs and WiFi Vouchers, with over 300 hotspots located in the Cook Islands.
Where is Vodafone located?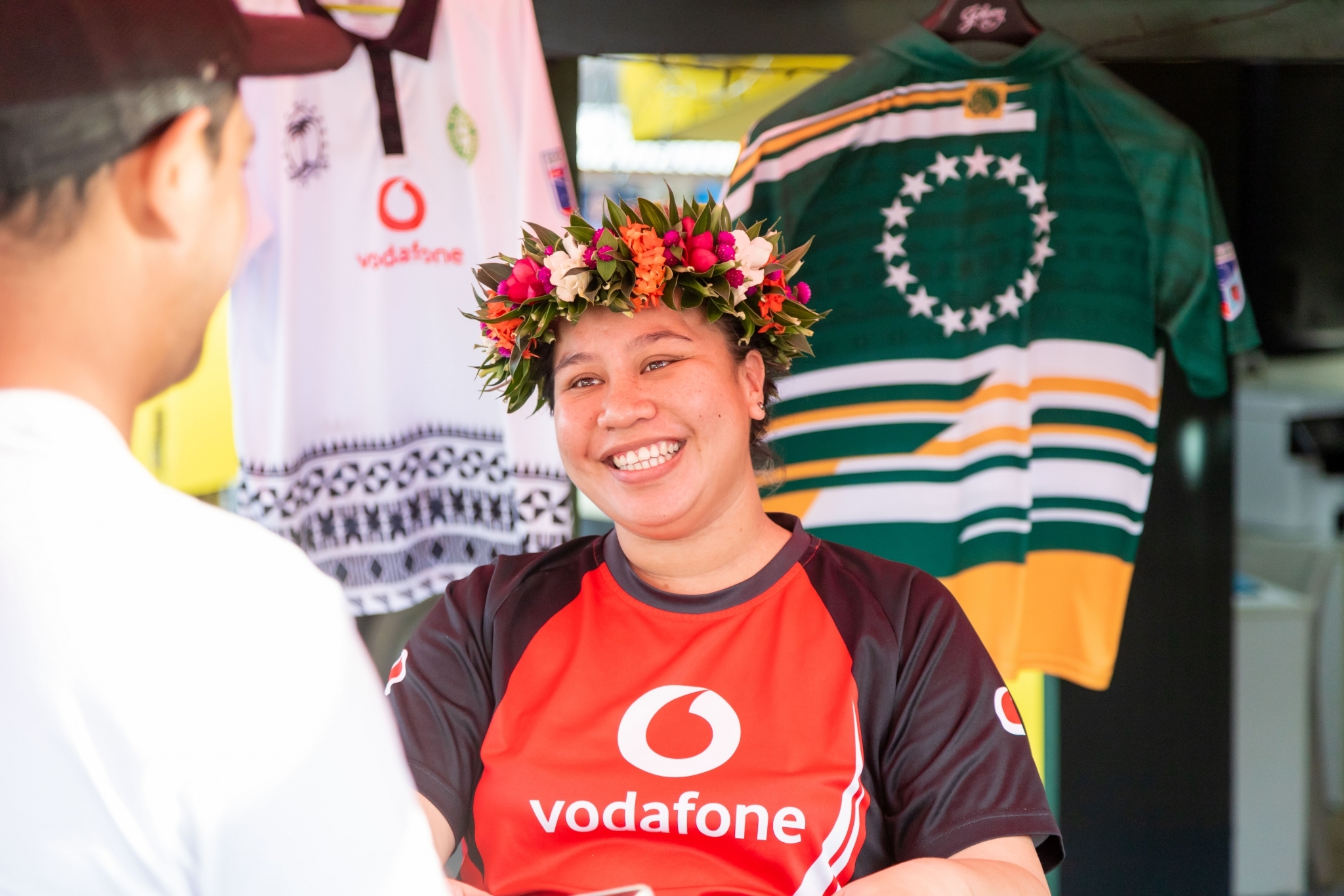 We have a store at the Rarotonga International Airport just as you exit the arrival hall, open for every international flight.

Our Main Office in Parekura is open Monday-Friday from 8am-4pm and we also have a Vodafone outlet in the CITC Avarua Shopping Centre complex in Avarua, which is open Monday-Friday 8.30am-4pm and Saturday 9.30am-12.30pm.
We also have outlets on all islands, excluding Nassau, Suwarrow, Takutea and Manuae.

What visitor services do Vodafone offer?
Travel SIM
Vodafone has two Travel SIMs to choose from including a set amount of TXTs, calling minutes and mobile data.
$49 Travel SIM - 5GB of data, 30 minutes and 300 TXTs - valid for 15 days
$69 Travel SIM - 10GB of data, 60 minutes and 600 TXTs - valid for 28 days
You can use your calling minutes to book your local tours or stay in touch with friends and family in selected countries including New Zealand and Australia. If you run out of data, you can add more with our 1GB data bundle for $10.
Tip: Download the 'My Vodafone Cook Islands' app to add data bundles and monitor your usage for TXTs, calls and data.
WiFi Vouchers
It's easy to get connected in the Cook Islands with Vodafone Hotspots located in a number of places including resorts, restaurants and cafes, bars, shops and more.
WiFi Vouchers are easy to purchase and are available from Vodafone outlets and resellers nationwide. You can also buy WiFi vouchers online when you're at a Vodafone Hotspot, through our online Recharge website or using the My Vodafone Cook Islands app.

Tip: Don't forget to logout of the WiFi Hotspot once you're done browsing to save WiFi data. Also, take a snapshot of your WiFi Voucher too, just in case it gets misplaced (or wet from your lagoon cruise!).
WiFi Hotspots
We have hotspots all over the Cook Islands in popular places like the markets, cafes, holiday homes, our Vodafone stores and outlets and more. You can find a nifty Google Maps version of where our hotspots are located in Rarotonga and Aitutaki from our website here: vodafone.co.ck/prepay-internet. Or ask a local if they can point out the nearest Vodafone Hotspot.
Data in the Outer Islands
We do have mobile data services in the islands of Aitutaki, Atiu, Mangaia, Mauke and Mitiaro. Aitutaki has 4G/LTE mobile data while the rest of the islands mentioned have 3G. Our Travel SIMs work in the outer islands and are great for keeping you connected while you're visiting the Cook Islands.
Any handy tips or tricks for visitors to the Cook Islands?

Vodafone Travel SIM Tips
First tip would be to make good use of the free TXTs and calling minutes to contact friends and family back home instead of relying on data operated apps (e.g., Messenger/WhatsApp/Viber). Better yet, book all your tours and make reservations using your minutes while on holiday
Save Data by switching off all auto-updates, restrict background data downloads on your device
Use Data for live updates or 'in the moment' posts via your social media channels. Upload your pics later using WiFi either from your hotel or from a nearby Vodafone hotspot.

Switch off your data if you're not using it - also saves on battery life.

Download the My Vodafone Cook Islands app on arrival to monitor your data/mins/txts usage.

Need to upload your photos from your laptop or computer? Tethering is available on our Vodafone Travel SIMs, tether data from your phone to your device and get those important captures up online in no time!

Avoid using data when visiting sites that may have low data range/signal. Take your photos and upload them later once you're in good range.

Vodafone WiFi Hotspot Tips
If you have access to a Vodafone Hotspot at your accommodation, then save on mobile data and upload your photos/videos using WiFi instead.
Can't find your nearest Vodafone Hotspot? Visit www.vodafone.co.ck/prepay-internet and find our maps with over 100 hotspots located around Rarotonga and Aitutaki. There's sure to be one next door or around the corner from you.
Make sure to logout of your WiFi after each browsing session at a hotspot to conserve MBs.
Out of range? Visit any of Rarotonga's cafes/restaurants with our Vodafone Hotspots instead and enjoy the comfort there, along with good food and atmosphere, and a refreshing beverage