"I come from a farm family that knows about hard work and that is what built the Muri Beach Club Hotel."
Two years ago Rarotonga's 30-room adult only hotel Muri Beach Club Hotel was named the world's most luxurious romantic hotel in recognition for its world-class facilities and service excellence provided to guests. Not bad for a hotel that was only formed 10 years earlier with the concept of offering an adult-only experience for guests to enjoy a beach holiday in a children-free environment.

The Muri Beach Club Hotel began as the vision of local farmer, John Scott. Today, it is run by his daughter, Liana Scott.
According to Liana, the success of the hotel would have been not possible without the dedicated support of the staff throughout the years.
"We have a culture in the hotel to provide an excellent service to all our customers," said Liana.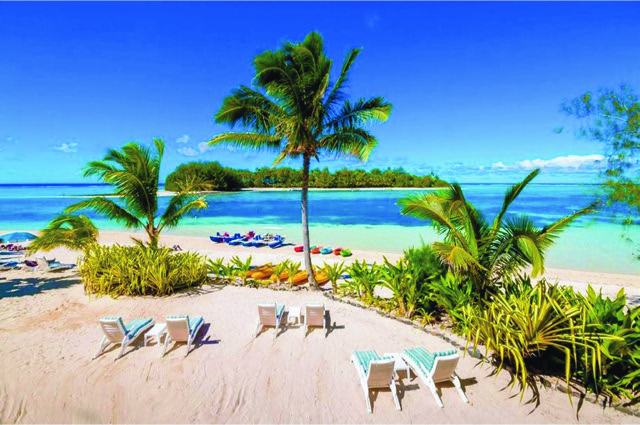 Fronting on to the clear waters of Muri Lagoon with a backdrop of the lush mountains of Rarotonga, the Muri Beach Club Hotel is located in one of the most idyllic vacation locations in the world. Liana Scott grew up in the area where the hotel stands today.
"I am lucky because I have two mums and two dads. I was adopted just after birth. My birth mother is Vara Hunter. I was the last of the seven children and a twin; Moana Hunter is my twin sister. My other mother Tara Scott, who is related to Vara, couldn't have children at the time. She asked Vara: 'if you have twins may I have one of your babies'. Vara agreed, because she thought the likelihood of that happening was pretty rare," said Liana.
"Vara said when she went to give birth she had no idea she was having twins. I was the last and she kept her promise to Tara. It was a very Cook Islands thing!"
Liana's six Hunter siblings have all been a success in their own right: Conrad, Karl, Dean, Maria, Bob, and Moana.
"We are close. When I was adopted I knew that I had two mums and dads. I was told from the beginning that I had this connection. I played with Moana all the time. I was breast fed by Vara. The families have always been close.
"I grew up calling Tara, mum, and Vara, Aunty Vara, living in close proximity. We lived at the farm and they lived at Vara's beach house at Muri. I was legally adopted so I took the family name Scott".
"My Dad had the farm, but he was also a clerk for parliament; gardening and farming were secondary, apart from building the hotel much later."
Liana thoroughly enjoyed her childhood.

"I was both a farm girl and a beach girl. On the farm we had things to do like plucking and gutting chickens. I didn't mind it at all. The family also adopting my brother Damien. We are only a month apart in age, so he was like another twin. Later on the Scotts were able to have their own child, that's Dinara.
"The kids had a great time mountain climbing and snorkeling. I spent a lot of time with Moana and the brothers. I lived my entire childhood in Rarotonga".
Finishing high school, Liana was offered an opportunity to work for Air New Zealand.

"I was the youngest person working for the Travel Centre at age 18," said Liana.
"I just wanted to work more than anything else. I stayed with Air New Zealand for five years.
Liana's relationship with the airline was so amiable they became her sponsor for Miss Cook Islands.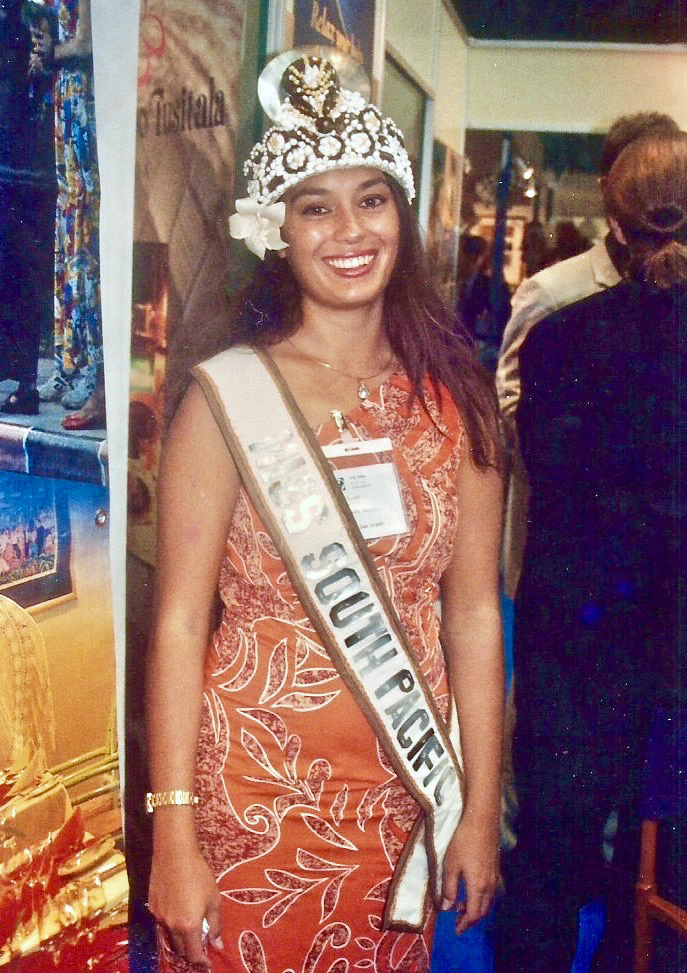 "I came second, so I didn't win Miss Cook Islands, but I won Miss South Pacific in Tonga. A great experience!
"I remember everything was running late, and I needed to go to the toilet with my full costume on. I was told that I couldn't go in because it was reserved for the King. My chaperone made such a fuss the guards allowed me in, but told me to 'please hurry!'
Liana said she received many opportunities whilst holding the Miss South Pacific title.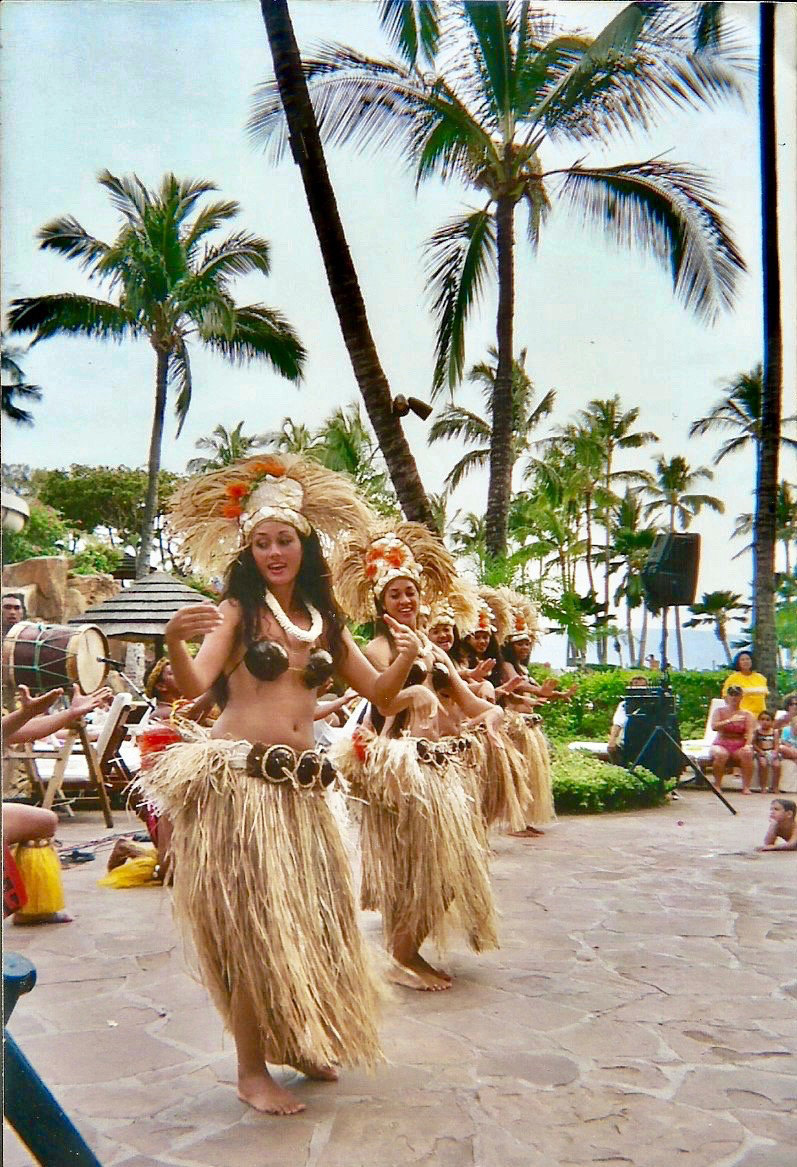 "I went to the Sydney Olympics in 2000. I also attended ITB (travel show) in Germany. I was involved with dancing at the time, so it was a given that I would dance. Dancing helped a lot with my confidence, and I love dancing. From a young age, Vara (a legendary Cook Islands dancer) was always very encouraging.

"I also travelled with my dance team, the Ta'akoka Dance Troupe, including to Dubai and Europe. The troupe still exists today, performing at the Edgewater Resort Island Nights".
During this period Liana undertook an accountancy course and a tourism course by correspondence.
"After five years with Air New Zealand I worked with the inbound operator, Island Hopper, for around two and a half years. Then the farm was short of staff. They were struggling a bit because they were so busy, so I went back to work on the farm – something I have always loved to do!"
Liana has been with her partner Anton Hayward since around the time of Miss South Pacific.

"He came here from NZ looking for his Cook Islands roots. He met me and never left! We've been together nearly twenty years.
Anton and Liana have bungalows on the Muri hillside, plus other properties.

"We also have Raro Buggy Tours and Raro Quad Tours. We are busy all the time: we don't overthink it; we just do it".
The Muri Beach Club Hotel (MBCH) was being developed at the same time Liana was with Air New Zealand.

"Dad is a New Zealander, old-fashioned farmer style, who doesn't like to borrow much money from the bank. He is married to Tara, a Cook Islander.
"They inherited the farmland and the land where MBCH is built. It was originally planned as a club – a restaurant facility – but it made more sense to upgrade the development into a hotel beach resort".
Liana remembers one of the first things Mr. Scott planned was the pool.

"He built MBCH inside out! So we had a really cool pool most of our childhood, with nothing around except a construction site," Liana said.
"It was the first adult-only property on the island. It finally opened in 2005. The first GM was Karla Eggelton, who is now the Director of Sales and Marketing with the Cook Islands Tourism Corporation. She had so much knowledge.
"I came in as the understudy. I wasn't even sure it was something I wanted to do, but my father wanted me to do it, but he wasn't going to force me to do it".
Liana said she quickly learned to be hands-on, and to be able to read people, and resolve problems.
"I'll never forget the day we opened in December 2005. It was chaos prior to that, everyone having sleepless nights, including sleeping here to complete things before the first guest arrived. A lot of things were work in progress.
"The day we opened we had six beautiful rooms, and 24 unfinished rooms that had to be finished in the next couple of weeks for the next group of guests. Behind the scenes there was chaos, but in front it was picture perfect and beautiful".
Liana started at the MBCH as a waitress; also working in the kitchen and housekeeping, and as wedding coordinator and assistant manager.
"I have been general manager now for over five years now. Today we have 30 rooms. Some rooms cater for up to four, so 72 guests is our maximum capacity".
The patrons of the hotel are mainly independent travellers; occasionally a wedding group fully occupies the hotel.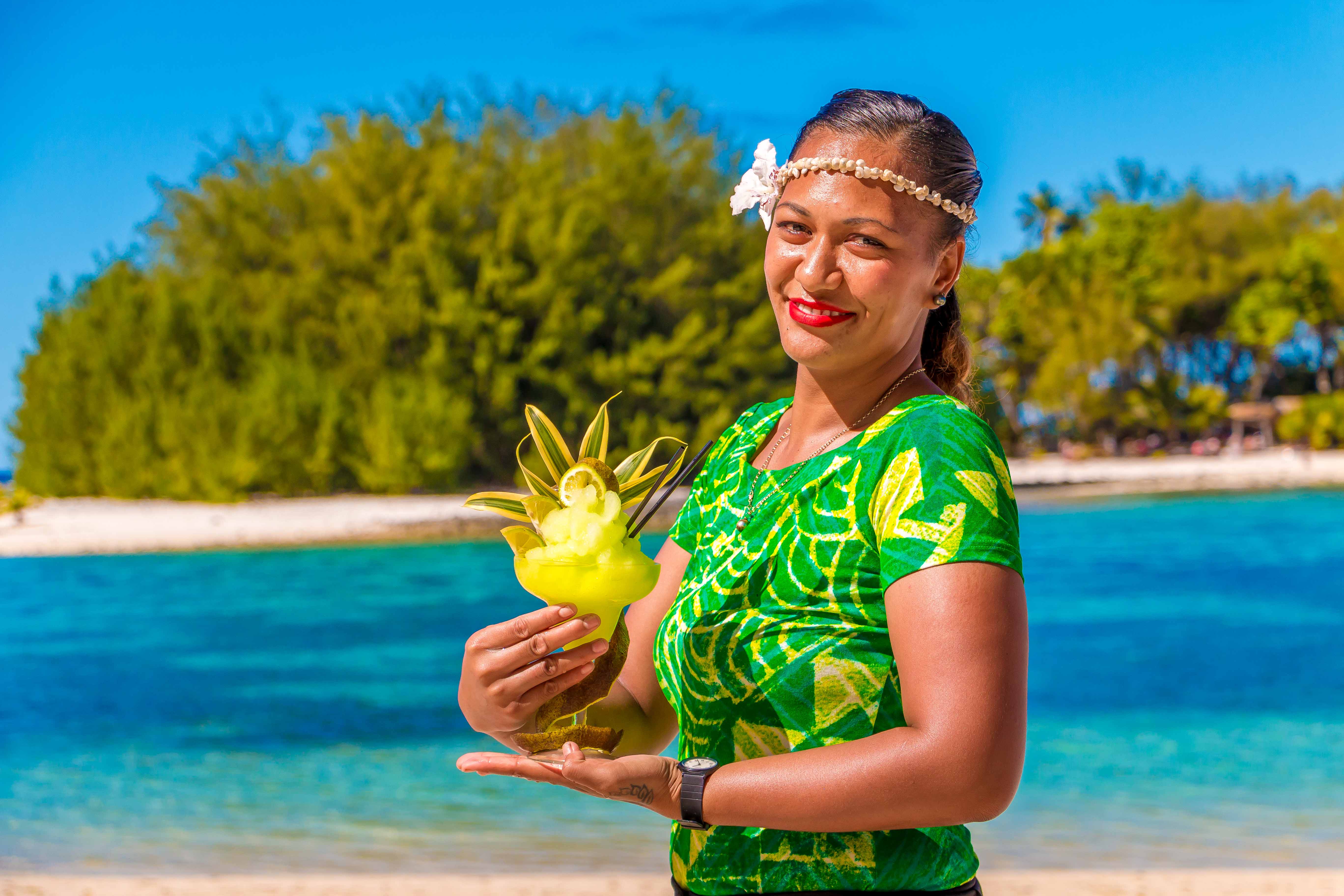 "The hotel's Silver Sands Restaurant caters for both guests and visitors. We prefer to use local fish, but only ones that are sustainable. Local fishermen contact us when they have a good catch from the ocean.
"Our cuisine has a Polynesian twist, using local crops. We feature multi-national chefs – Nepalese, Indonesian, and Filipino – to keep the cuisine interesting.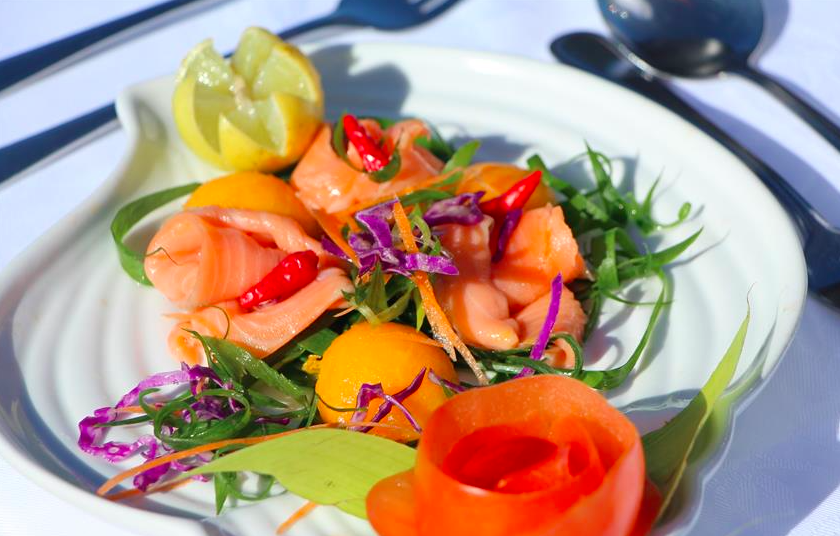 "Dining can be extended to poolside or on the beach, weather dependent. Island Night is Wednesday. It's very much a Polynesian night and we love it – the buffet is Polynesian, but not just Cook Islands Polynesian – because we have such a variety of chefs who like to put something special of their own into the buffet".
Liana said a main goal for the MBCH has been to develop a close, hardworking team.
"One of the things we like to do at the hotel is to constantly rotate the staff. Restaurant staff will do a day of housekeeping; front office will work in the restaurant and housekeeping. I can't believe how hard they work.
"I have done all these rotations so I know the benefits they have to staff morale and guest service. I don't ask them to do it all the time, but I want them all to get a feel for the work of the various departments, and to understand how a boutique hotel works. That means that anyone can tell a guest where to find the coffee and tea in the room, or make recommendations in the restaurant."
Commenting about the future of tourism in the Cook Islands.

"We want to maximise tourist numbers, but not be overpopulated with visitors because we have limitations like fresh water and roads.
"I'd like to see a little more on the planning side of things from the Government, including walkways along out roads, the sewage, rubbish dumps, recycling, better lighting, and for them to work out what that magic number is that should be a limit to visitor numbers.
"I come from a farm family that knows about hard work and that is what built the Muri Beach Club Hotel. I am proud of what my family have achieved here"
Share this story