Pictured: Tama Tuavera and Antonia Poa from Captain Tamas Lagoon Cruizes at the 2017 'A1 Meitaki Awards' ceremony at Maire Nui Park in Avarua.
Celebrating 25 years in the lagoon cruising business, Tamaiva Tuavera, or as he is better known in the tourism industry, Captain Tama, or just Tama, has an inspiring life story to tell...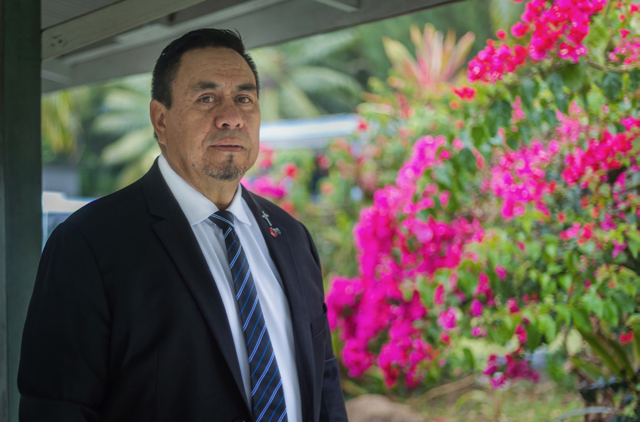 "I am a proud Cook Islands Maori. My grandfather on my mother's side, George Brown, is Scottish; he was a trader who settled on Mangaia. George had a family history of captains on vessels that sailed from England to New Zealand and Australia. George Brown was the manager for the island trading company AB Donald Ltd in Tahiti and the Cook Islands.
"My mother is from Mangaia from the Brown family of thirteen children. My father is from the Maoate family of Ngatangiia but was raised by his mother's family in Matavera and took the surname Tuavera.
Tama was born and raised in Matavera on Rarotonga; he too is one of thirteen children.
"My father worked the land. He was a big grower; planting as much family land he could get his hands on. He was one of the first to bring in tractors."
This was in the 1950s and 60s when Rarotonga produce was mainly for export. Tama's father grew mainly bananas, oranges and tomatoes for the New Zealand market.
"Like every kid growing up on the island: you go to school, you go to church. My father was a deacon and the secretary of the Matavera Cook Islands Christian Church (CICC).
"When I was a kid, I had what I considered three 'grandfathers' who looked after me. All war veterans: Papa Tuorotini (WW1), Papa Tiaki (real name Peter Cowan, WW2), and Papa Tiamu Aperau. They were my heroes and close relatives of my father.
"They told me tales about their wartime experiences. They were my inspiration".
At primary school Tama was in the Life Boys and the Boys Brigade, which he said was very popular in his day. Tama was also into rugby and boxing.
"I won my boxing weight when I was nine or ten. They called it 'paper weight'. After primary school I headed off to Tereora College.
"When I was nearly fourteen I went to Rutherford High School in Auckland. I stayed with my sister."
High school was not for Tama so his sister arranged his first job making oil filters for cars. That didn't last so he moved in with a cousin and started work with him as a furniture polisher. Tama then moved in with another cousin, this time in Wellington, where he started a spray painting apprenticeship.
"By the time I reached 16, I felt like an old man who knew the world. I even hung out with gangsters!
"Around that time I picked up on my rugby, playing every Saturday. I played half back and full back in the U-18 and U-19. On Sunday we played league.
"My biggest moment was when I got selected for the Wellington U-18s Rugby as open side flanker. I was playing a lot of rugby, and got a bad injury to my knee".
Around this time a friend, Hector George, who was in the army, wrote to Tama telling him: "This is the life!"
"He was heading off to Singapore. I was 17 and wanted to be in the Police, so, I applied to both the Police and the armed forces. The response from the armed forces came first and I signed up as a rifleman for twenty years in the Infantry.
"I went to Linton camp and worked for the training depot there. Years later, when I got out, Linton was my last posting in the army".
"I was an All Arms Instructor training office cadets, junior and senior NCOs."
Tama was in the army from 1976-1991.
"My first posting was to the 2/1 RNZIR Battalion at Burnham. 1 RNZIR Battalion was in Singapore. NZ maintained its battalion in Singapore until 1989, peacekeeping. I served in Singapore for three tours. Our generation was called the 'lost brothers' - we didn't get a chance to go anywhere, but we trained the ones that did!"
Tama, or Tom as he was known in the army, became a number one machine gunner in the New Zealand Army.

"I was the top machine gunner in both battalions and still hold the record for the highest score".
Tama was two times winner of SAFSIM Machine Gun Shoot (Singapore), and eight times winner of the Freyburg Trophy and Top Gunner with the 2/1 RNZIR and 1RNZIR.
In all his time in the army, Tama never fired on a human being.
Due to his persistent knee injury, Tama was medically discharged from the army in 1991 and was given his twenty years retirement.
"On my return to Rarotonga I took a year off. I was in my early thirties and not married. I travelled to Tahiti on the Vaka Te Au O Tonga.
"When I settled on Rarotonga, I met my wife Lynn and we married four years later. We have a boy and a girl."
But before he was married, Tama worked with Aqua Sports, a small boat operating on Muri Lagoon taking tourists snorkeling. He worked with Junior Ioapa (who now has Marlin Queen Fishing Charters). At one stage Tama ran the boat whilst Junior went to Hawaii for eight weeks; he recalls enjoying the experience.
"I also had a business mowing lawns and at the same time I worked at Tamure Restaurant as a part-time barman, where Club Raro is now. That's where I met Lynn. It was turning into a full-time job, which I didn't want".
Tama said there was a glass bottom boat that operated out of Pacific Resort and the general manager, Thomas Koteka, asked if he wanted to run the boat for Pacific Resort.
"I said I would only do it if I ran it for myself as I didn't want to work for anyone anymore. Thomas agreed to rent the boat to me.
"Business began slowly, then Lynn made up a promotional pamphlet and we named the boat the Pacific Coral Cruiser."

At that time Tama worked for himself, so not only did he captain the boat, he entertained guests with his ukulele, tied the pareu, cooked the BBQ on the motu, and climbed the coconut tree.
The reputation of the Pacific Coral Cruiser experience picked up and the business grew.
"People started calling me Captain Tama. It got to the stage that I needed some help so I trained up a local guy, who I called Captain Pinky."
After six months, Tama bought his first boat from New Zealand. He designed it and it was purpose-built to carry up to 29 passengers.
"We started running two cruise boats a day. One leased off Pacific Resort, the other mine.
"This was about the time Brother Love came in and worked for me around 1994, before his famous career began."
Brother Love (Rahui Vaka) became one of the best-known names of Cook Islands music, credited for bringing the Blues to the islands.
"It was also the time Pacific Resort decided to bring in their own boat, so they asked me to move out of the resort. We moved to our current location next to the Rarotonga Sailing Club, and I eventually bought the Aqua Sports boat.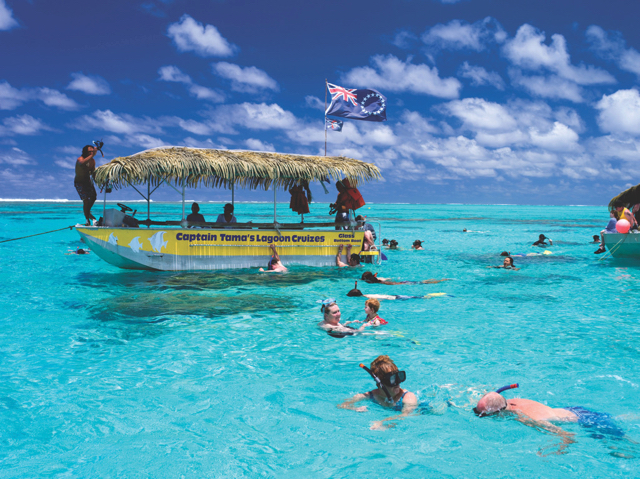 Today Captain Tamas Cruizes have four cruise boats, numerous sailboats, snorkelling hire, and windsurfing.

"I recently donated two sailboats to the Sailing Club for the kids. I've been involved in the local community since I started the business, mainly though sport and the church."
As a politician, political reform has always been on the top of Tama's agenda. He is a member of the Democratic Party, and a former Deputy Leader.
"My family have always been involved with the Democratic Party; my sister was the member for Matavera, and a cabinet minister.
"I represent Ngatangiia. My pet things are roads, the Muri lagoon, and reticulation in my village."
Looking back, Tama is proud that Captain Tamas Lagoon Cruizes celebrated 25 successful years in 2017, and that the business is a past recipient of the prestigious Air New Zealand Cook Islands Tourism Awards (Culture 2011).
The future looks bright for Captain Tamas Lagoon Cruizes.
"Cook Islands Tourism is doing a great job, but I worry the infrastructure is not there, especially on Rarotonga.
"I want to expand Captain Tama's outside of Muri. Maybe a glass bottom boat that is bigger; there could even be a submarine! I also want to expand into other businesses".
There was a twinkle in his eye when Tama talks about 'other opportunities over the reef.'
Share this story