"Guests go crazy when we see humpback whales"
Game fishing around Aitutaki is some of the most accessible in the South Pacific with plentiful Wahoo, Mahi Mahi and Yellow Fin Tuna; similarly, the lagoon in Aitutaki Lagoon is perhaps the most beautiful snorkelling lagoon in the world - it's shallow, it's crystal clear, it's safe, and it's dotted with dreamy little islands.

A local charter company with some of the highest ratings you can achieve on Trip Advisor has won the admiration of its guest by offering these activities individually and collectively. Black Pearl Charters run by Mike and Mere Tekotia operate two boats, the Black Pearl (game fishing) with Mike, and the White Pearl with Mere (lagoon tours).
Mike was born in New Zealand but his father is from Aitutaki: "He brought us here when I was twelve. He wanted us to return one day and build on the family land."
Mike went on to spend twenty years in the Armoured Corp of the New Zealand Army, but on retirement at age 37 returned to Aitutaki for a holiday with his wife Mere, a New Zealander, and decided to make good on his father's wish.
"My cousin Jason had the only charter fishing in Aitutaki at the time. We went out fishing every day. I knew then that was what I wanted to do!" Mike said he learned everything about game fishing from his cousin. "I bought the Black Pearl in 2006. It was already here and working".
Mike soon discovered most guests just wanted to have fun and catching a fish was a bonus: "A lot are honeymooners wanting to do something they have never done before.
"We start at first light. Pick up is at 6.30am. We have breakfast on the boat with hot and cold drinks, bacon and eggs. Then we head out to sea two or three miles, returning around 11.30am."
Mike said yellow fin tuna are on all year, and at different times mahi mahi and wahoo are also plentiful. Black Pearl can put out five to six rods at anyone time using lures and on occasion live bait and soft plastics around the FADs.
"We modify charters to suit clients, for example if they have children we'll go closer to the reef using lighter gear and smaller lures, and we'll catch reef species. We do whatever people want really!"
Mere said many guests were also interested in snorkelling in the lagoon and visiting the motu (little islands), which stretched the availability of the Black Pearl.
"I started assisting and snorkelling with Mike on the Black Pearl. We introduced the lagoon side of the business after Mike worked for the reality TV show Survivor," said Mere.
In February 2006 the producers of Survivor arrived to organise the show starting that July. They rented over twenty boats for transporting production crews.
Whilst offering good money Mike was reluctant to rent Black Pearl to Survivor until they told him they were bringing a world-class outboard mechanic: If you come and work for us, at the end of the three weeks filming we'll have our mechanic strip your engine down and rebuild it: 'Count me in' was Mike's response!"
"So we started the lagoon side of the business, which has got busier each year. By 2013, we split the fishing and snorkeling and bought the White Pearl for snorkelling in the 2014 season," said Mere. "Leo Daniels is our other skipper. Without him we couldn't run both boats at the same time. He skippers the White Pearl with me, and he skippers the Black Pearl when Mike is off the island.

"Sometimes guests will have a full day on the water with our 'mix and match.' In the morning they go fishing with Mike, then the afternoon snorkeling with me. Four hours fishing and four hours snorkeling, including lunch.
"Our snorkeling is guided so I'm with them in the water. On the full day charter (six hours), we do four snorkels and four islands including a BBQ lunch on One Foot Island. Mostly though, I do half-day snorkelling charters morning or afternoon".
One of the more celebrated guests on White Pearl has been Paul Henry, the New Zealand radio and television broadcaster, who snorkeled all day on the lagoon with his partner.
Black Pearl is still the game fishing specialty boat, which proudly declares that all billfish caught are released, including marlin and sailfish, but other fish are kept and eaten. No wastage!
"At the wharf I whip the fillets off and pack them for the guests. What they don't want or can't eat, I sell to the restaurants," said Mike.
A bonus for guests out game fishing on the Black Pearl is sighting migrating whales. "They go crazy when we occasionally see humpback whales. We never go closer than a hundred metres, but sometimes they'll come to the boat and under it! Depending on circumstances, we'll go in the water with them. We throw the ropes over and get the goggles on, but guests don't leave the side of the boat," said Mike.

"One time a pod of humpbacks followed us for miles back to the main entrance of the harbour. People don't care about fishing after that!"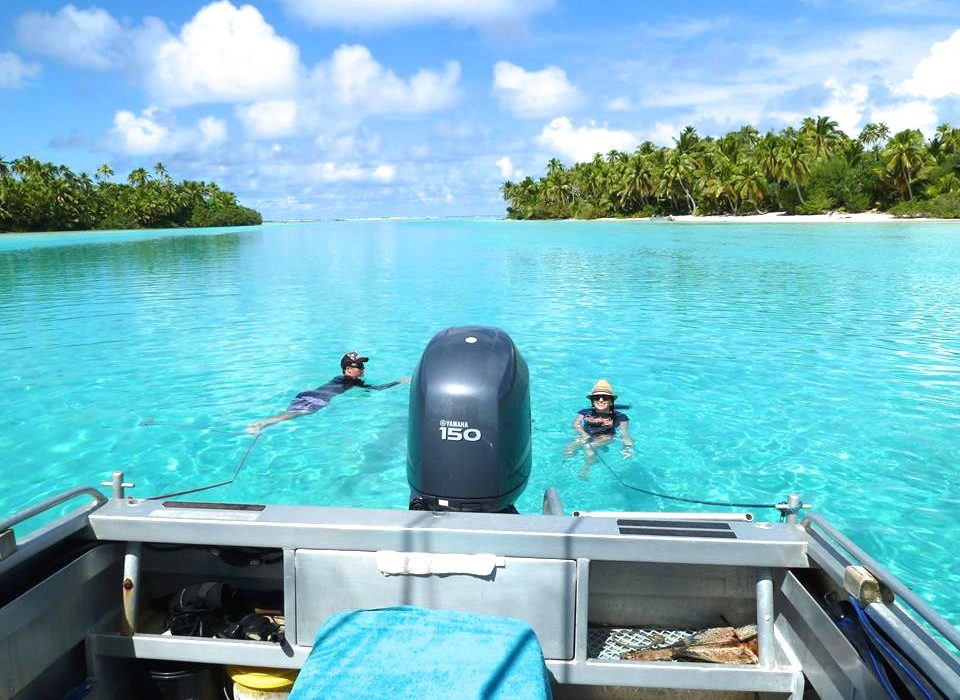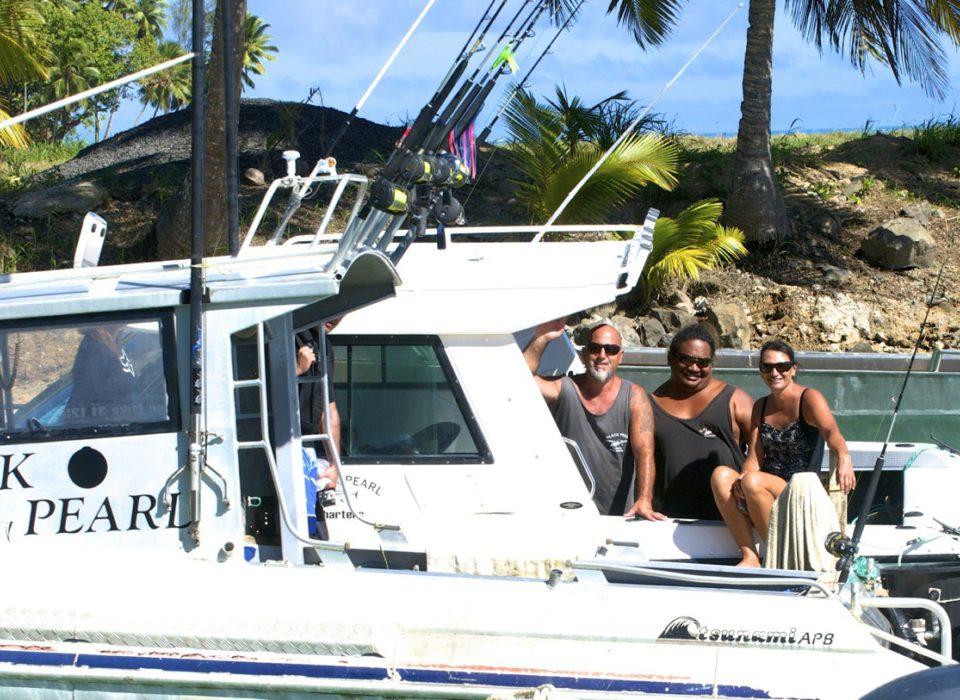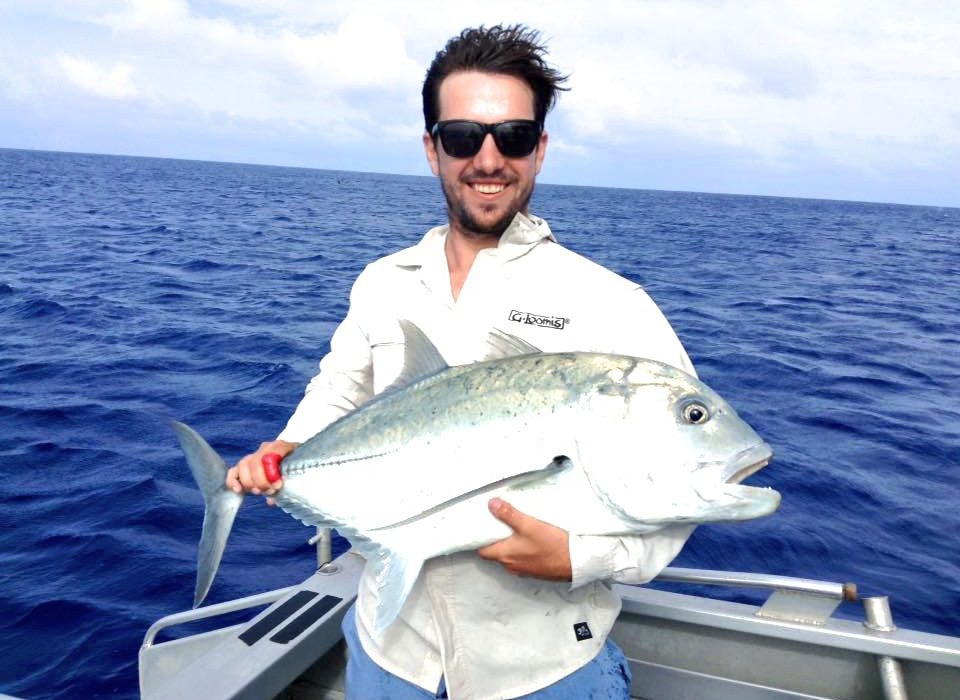 Share this story