"I've enjoyed cooking all my life"
Married to renowned Cook Islands 'foodie' and cookbook author Sue Carruthers Brown, Robbie Brown is a humble and proud Mangaian-born man; he is also head chef at Rarotonga's definitive five-star restaurant, Tamarind House.
Born on one of the world's most ancient islands, Mangaia, Robbie Brown, who turns 60 in 2019, arrived on Rarotonga when he was four to be brought up by his adoptive mother and father.
Coincidentally, as a child he lived close to where he lives and works today at Tamarind House.
"My adoptive father was a farmer and fisherman. When the land was wet and he couldn't plant, he would go fishing in the reefs with a bamboo rod looking for octopus", said Robbie.
"He taught me how to plant and look after the crops. We went fishing together, and he taught me how to hunt octopus; walking out on a low tide around where the Tamarind is now."
Robbie continued for years to fish for octopus and would often catch nine or ten in a day, then put them on the menu.
"A couple of years ago I went octopus fishing and noticed they were making a funny noise, like they were crying. I felt bad so, that was it! I stopped fishing for octopus. I can't even buy them nowadays!
Robbie recalls a lonely life when he first arrived from Mangaia but that improved when attending Avarua School, then Tereora College.
Throughout this time, Robbie fondly remembers competing with his friends in the traditional Polynesian game of Teka, a now defunct game using with sticks or dart-like rods.
"During college holidays I worked in the island juicing factory, working with pineapples that came from Mangaia," said Robbie,
"My first real job after college was in a duty-free shop in Avarua. I was there for four years, working with Kevin Cook. He left the business to build Cook's Corner, and I ended up working for him in his café as a waiter and barman".
Robbie said he was beginning to enjoy himself too much and wasn't saving any money, so it was time to change!
"I went into the building industry with Gordon Murray working on Paradise Inn, which was being converted from being a dance hall into accommodation. I did that for a year, and then moved on to other building work".
Around 1984, Robbie started working at Portofino Restaurant as a barman.
"For a while I worked in Wellington as an orderly in a hospital. I was there for a year then came back to Rarotonga, and I returned to Portofino".
In 1988, Sue Carruthers opened Flame Tree Restaurant in Muri. Sue worked in the kitchen and Robbie front-of-house and bar.
"We were there for thirteen years. When we sold in 2000, Sue and I went overseas for six weeks where we attended a cooking school in Italy".
Robbie and Sue then set up a café on the bottom floor of their two-story house at Ngatangiia.
"We did this for a while, but it there were too many negatives having a café at our own home, so we started looking for somewhere else. We wanted to have a restaurant in an old colonial house on the beachfront if we could find one."
After some disappointments, Sue contacted Mike Mitchell, the retiring British Consul, who occupied the old Union Steamship Company House in Tupapa, a grand old colonial residence built in 1909. He was moving and willing to sell the lease.
It was transferred in December 2003, and the next big venture for Robbie and Sue began.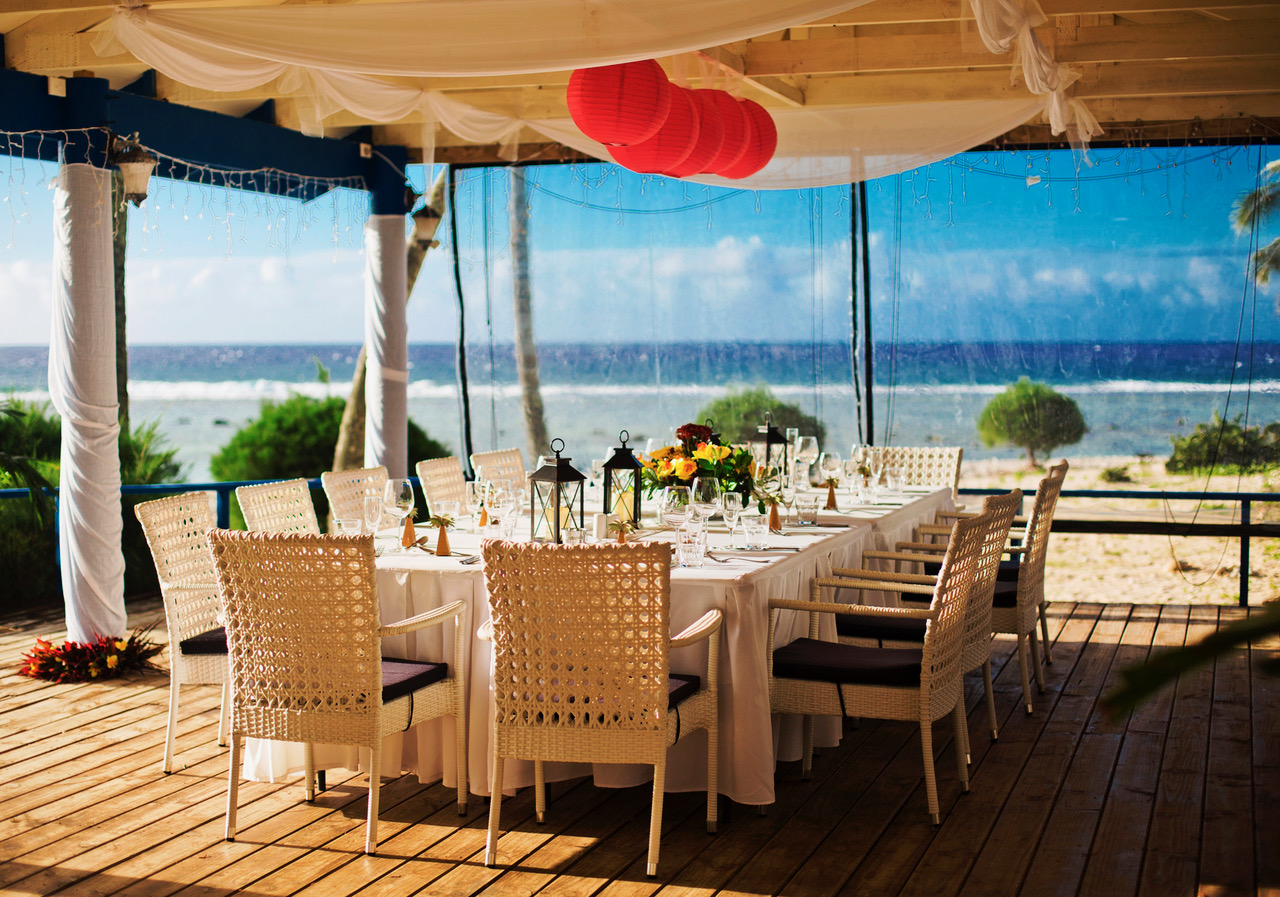 "The building was refurbished and named Tamarind House by Sue, because the name meant a lot to her (having being born in Kenya)".
Sue had spent years in the kitchen and decided with Tamarind House that she wanted a role reversal with Robbie. She would do front-of-house, and he would do the kitchen. So Robbie took on the role of full-time chef, though Sue continues to be involved in the designing of the food.
"I've enjoyed cooking all my life," said Robbie.
"I am a happy chef, not the swearing type! I don't panic. I just love it!
Robbie's self-proclaimed cooking style is 'Pacific Rim'.
When asked what his favourite eating experience was in recent years, his answer was unexpected!
"Easy! I loved a simple pizza I had once in Tuscany. Way up in the hills, we went to a small restaurant. The pizza came straight out of a wood fire oven, very thin crust with tomato, bruschetta and mushroom. It was so delicious (and memorable!)."
Robbie and Sue both create the menus at Tamarind House.
"We keep the favourite dishes, for example the seafood chowder, the fish curry, and the rib eye steak with mushroom sauce. But monthly we will introduce a new dish, often on our Filipino chef's recommendations".
Robbie has cooked for prime ministers, VIPs and celebrities.
"I cooked for Hillary Clinton here a few years ago. She loved our sashimi, and our chicken curry. She came twice. She told us she doesn't often go to the same restaurant twice!"
So what about the future for Robbie and Sue?
"We will be downsizing soon to make our life a bit easier".
Robbie said by the end of this year, they plan to downsize Tamarind House Restaurant to a space to cater for a maximum of 40 diners. They plan to convert part of the existing restaurant into four accommodation apartments.
"We will also sell two of our other eateries: The Rickshaw Café, and The New Place. That will leave us with La Casita Mexican Café in Muri, and a downsized Tamarind House Restaurant in Tupapa.
"This is much more manageable for Sue and I, and it will give us more time to enjoy our lives!"

Sadly Robbie Brown passed on the 17th March 2021
Share this story