"All art is autobiographical; the pearl is the oyster's autobiography" Federico Fellini
The Cook Islands has a proud heritage in pearling going back to the 1890s when the lagoons of Manihiki and Tongareva (Penrhyn) were harvested for natural pearls and mother-of-pearl shells. Today, cultured black pearls farmed in these same remote and pristine lagoons 1200km from Rarotonga, where pearl farming is the economic lifeline for these communities.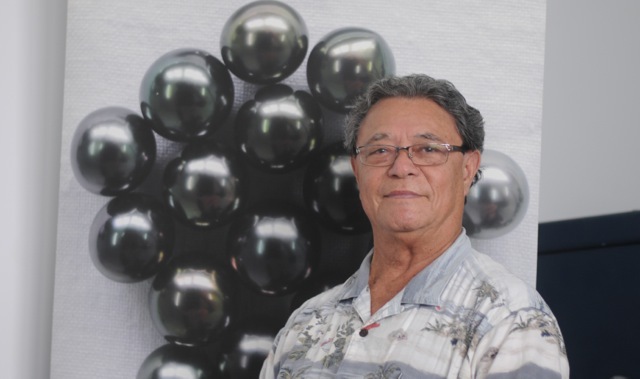 George Ellis is the chief executive officer of the government-sponsored Cook Islands Pearl Authority (CIPA), who developed their own brand, Avaiki, to set the standards in pearl farming.
"The Polynesian word Avaiki evokes the concept of a spiritual homeland," said George. "Avaiki is the registered brand name for premium Cook Islands cultured pearls of A-B-C only grades that are produced by accredited farmers who meet performance benchmarks and standards. On Rarotonga, only retailers who have been accredited can sell Avaiki Cook Islands pearls".
George, whose family comes from Manihiki, has a background in business administration, economics and accounting. He has also served as a local politician.
"Cultured pearl farming was first trialed in the late 1960s in Manihiki. In the eighties the Government decided to access the specialised knowledge needed to develop a prosperous cultured black pearl industry, which had successfully taken off in neighboring Tahiti. Manihiki and Tahiti have ancient ethnic connections.
"The Government approved the application of a Tahitian pearl operation to be set up in Manihiki so the skills and techniques of pearling could be shared.
"The Cook Islands pearl industry developed quickly and profitably and ushered in a 'gold rush' mentality at the time. Prices and global demand were high. Everything we produced, the buyers coming into the Cooks were buying.
"However, by 2000 the pearl industry was devastated by an outbreak of a bacterial disease in the Manihiki lagoon. Most operators went out of business, which ended the 'gold rush era' of the Cook Islands black pearl industry".
In 1993, the Government had established the Cook Islands Pearl Authority (CIPA) to guide the orderly and sustainable development of the pearl industry. According to George, this had not been welcomed by farmers, so CIPA was closed down two years later.
Fast-forward to today and the black pearl industry scene has changed dramatically with world competition in pearls increasing and prices dropping: "Many countries in Asia are now into the cultural pearl industry in a big way."
In 2006, with leadership required to maintain and grow the black pearl industry, CIPA was revived, with George Ellis at the helm.
"The vision of new CIPA was to reinvigorate the Cook Islands pearl industry and ensure its long-term viability. The mission is to locate markets prepared to pay good prices, standardise quality control and grading with legislation enabling us to enforce it."
CIPA also needed to differentiate Cook Islands pearls from those grown in Tahiti.
"We engaged overseas branding and marketing advisors in 2008 to create a new brand for our quality pearls. We launched the Avaiki brand in September 2009.
CIPA own the brand on behalf of the pearl farmers who apply to use the brand and comply with the standards. It is an accreditation system with strict rules, including environmentally, sustainable farming practices.
"Avaiki retailers are also accredited and are expected to meet ethical standards, respecting and upholding the accreditation process."
In its heyday in 2000, the Cook Islands black pearl industry was worth $18m annually produced by 200 farmers. Now there are around 25 pearl farmers who sell most of their pearls locally.
Today, the joint mission of CIPA and the Ministry of Marine Resources is to revive the Cook Islands black pearl production base and to increase capacity.
"The NZ Government is assisting our pearl industry through a funding program for farmers on the production side, as farmers must access money to buy the materials they need to grow more pearls.
"In five years we hope to double our production, but we need to be market-orientated!
"The world loves brands and we have a wonderful brand in Avaiki.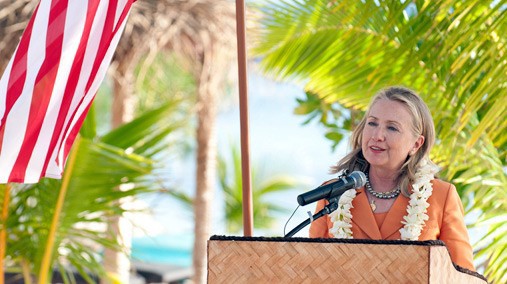 One of the celebrated admirers of Cook Islands black pearls is former US Secretary of State Hillary Clinton who visited Rarotonga in 2012 to attend a Pacific Islands Forum. Secretary Clinton was presented with black pearls by the Cook Islands Government".
George Ellis' final pearl of wisdom: "Take home beautiful Cook Islands black pearls as a reminder of your holiday, or as a gift. They are great value for money and there is 'something special' about each and every one!"
Share this story