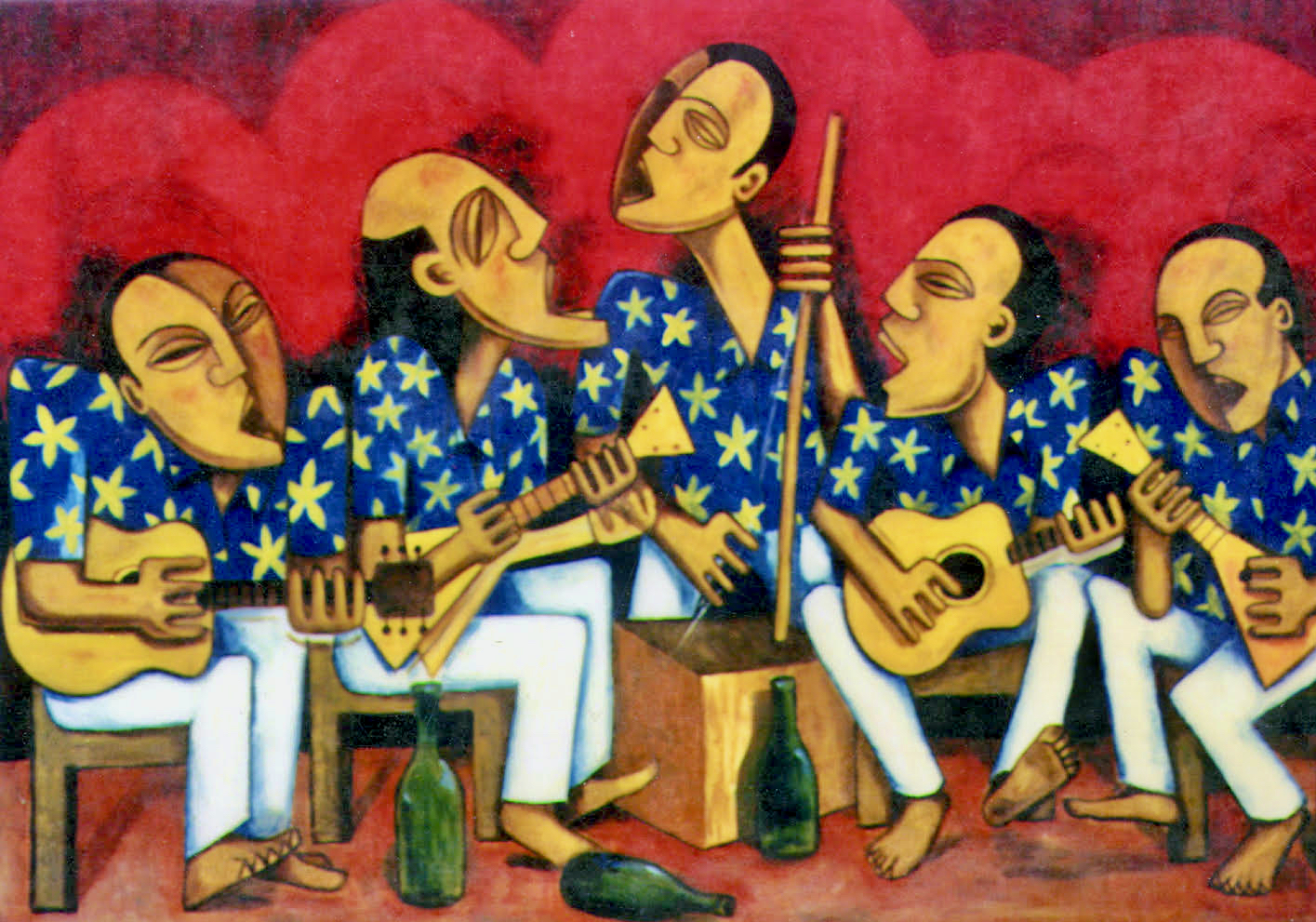 In the nineties a revival of the Cook Islands contemporary art movement began led by returning Cook Islands artists, including Tim Buchanan.
At the age of 25, Timothy Manavaroa Buchanan, whose mother is a Cook Islander, returned to Rarotonga in 1987 after 17 years in New Zealand.
Tim has endured as a artist in the Cook Islands since the early nineties.
"Before becoming a full-time artist, I was restoring and running the Banana Court," said Tim.
Banana Court was the first hotel in the Cook Islands opened in 1905 with six rooms. It was badly flooded and damaged during Cyclone Sally in 1987.
"I wanted to restore the building. The manager was retiring and I convinced the tourist authority that I had a vision for restoring and reviving it to its heyday as an entertainment hub, and I succeeded.
"I had lots of ideas including started a string band competition. When Cook Islanders have a drink, they pull out ukuleles and guitars, and start singing. So, I thought: let's have a competition to see who is the best.
According to Tim, the career of Brother Love, one of the best-known names in Cook Islands music, was launched at Banana Court.
Tim was with Banana Court for five years.
"I've been drawing and sketching and creating for as long as I can remember. It was my best and favorite subject at school," said Tim.
Some say that Tim's early works appear to be inspired by Gauguin during his French Polynesia period.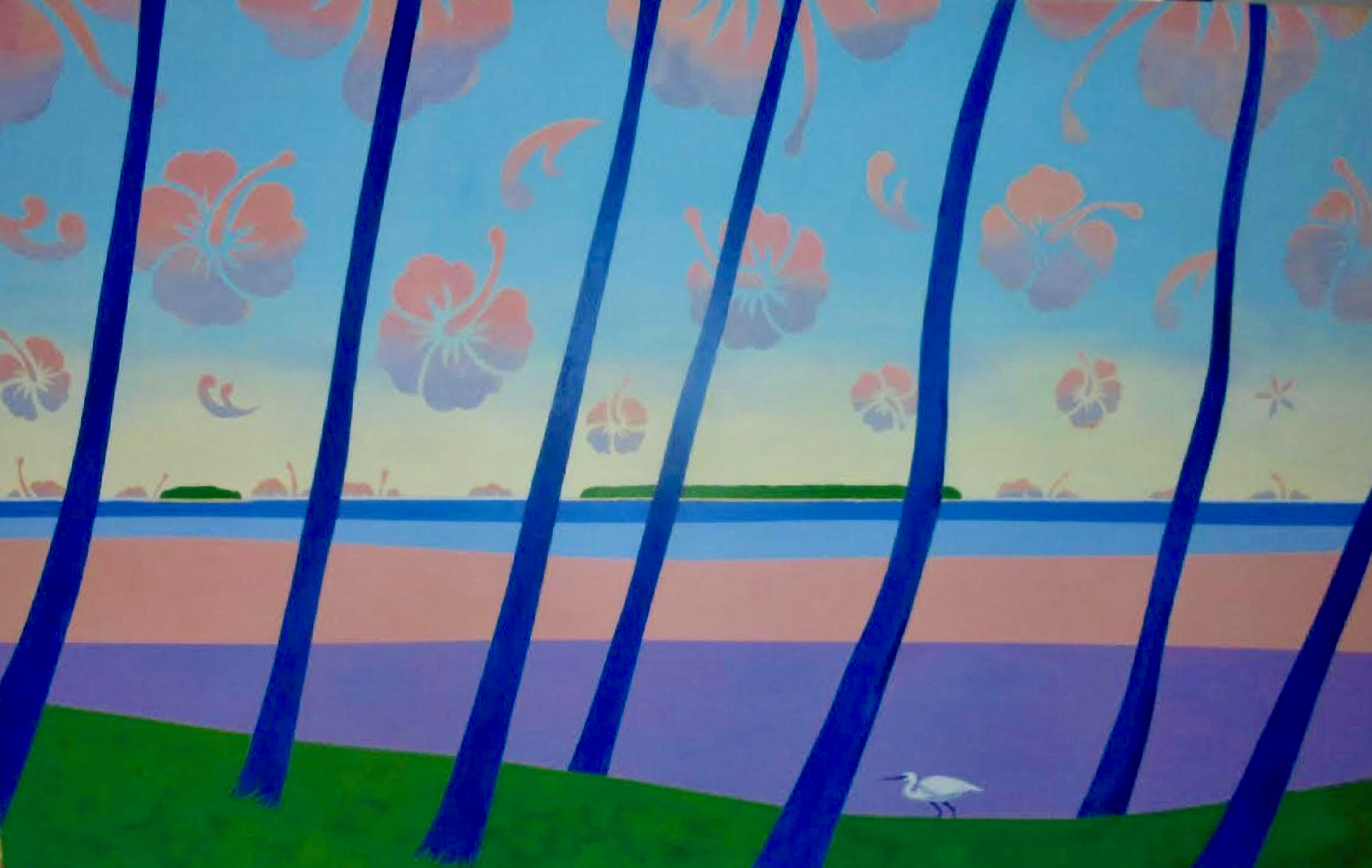 "Sure, he was one of the early modernists dabbling in Polynesian culture and appropriating Polynesian things like motifs. I have reappropriated.
"They interpreted our culture, and then I reinterpreted it back, particularly in the early days when I was finding my style."
Tim said the main comparation between his work and that of Gauguin is the subject matter. In turn Tim said his style has influenced some Cook Islands contemporary artists.
One of Tim's best-known early paintings is The Musicians, which was inspired by the Sunset Specials, a popular band that came out of the string band competition.
Following on from Banana Court, Tim moved to the Ministry of Cultural Development.
"I was charged with developing contemporary Cook Islands art, but with no budget. I had to find sponsorship".
Tim approached local businessman Brian Baudinet to seek sponsorship for a local artist. Brian had previously seen one of Tim's paintings in an exhibition on the verandah at Banana Court and offered to sponsor Tim.
Tim grabbed the opportunity: "Brian Baudinet became my patron for two years and effectively launched my career as an artist."
So, when was the first time Tim felt like a commercially viable artist.
"When my wife at the time was pregnant, we had to go to New Zealand. I had to raise funds to be able to do that so I sold one of my paintings.

"I heard later that the person I had sold it to was made a substantial offer for the painting, but she wouldn't sell."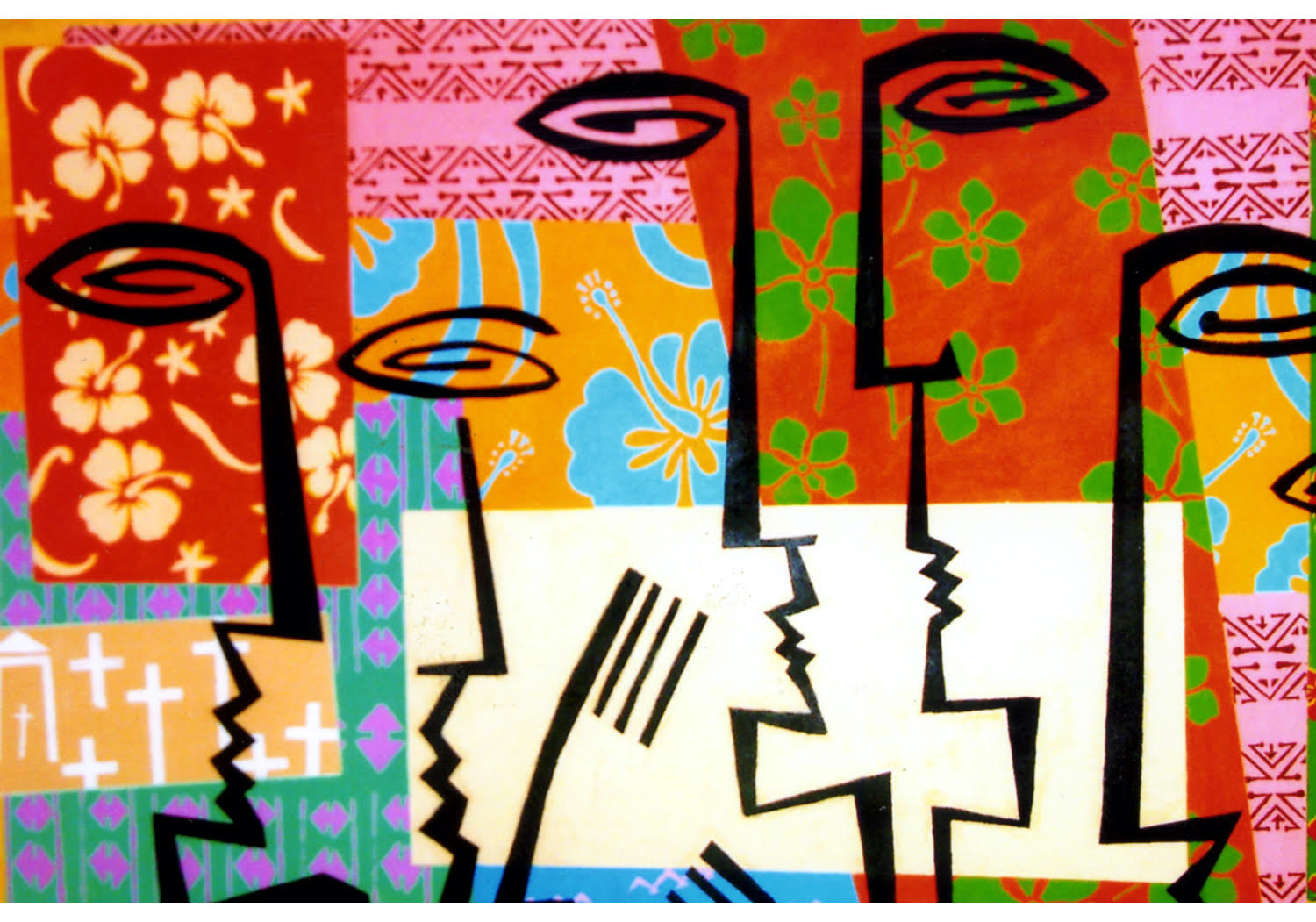 It was then that Tim realised that there was value in his paintings: "I've managed to maintain income steady income since that time."
As a sideline Tim has also been a location scout for the movie industry including The Other Side of Paradise, and more recently Gary of the Pacific.
"Jack Cooper recommended me for Gary of the Pacific. Trader Jacks were doing the catering for the crew.
"I enjoyed the work because I was collaborator for someone else's creative vision."
But Tim's mainstay is still art.
"In recent years I took up a residency at Tamanu Beach resort in Aitutaki. I did a series of paintings for them, and came up with three different styles that I had never worked with before.
"One of them I was quite pleased with; it didn't look like anything our Polynesian neighbors were doing. It was something that was uniquely Cook Islands."
Tim has had commissions from the government and the Airport Authority.
A painting by Tim depicting travelling Polynesians features at the entrance to the Rarotonga International Airport departure lounge, complementing Ted Nia sculptures.
"Ted Nia was charged with coming with artwork for the new airport renovation, and he approached me to do the departure area wall.
"He was an acclaimed contemporary artist in his own right. Ted was a superb carver, superb painter, and something of a character."
The piece Tim created for the airport was produced on board: "I actually cut into the board so it's part sculpture and part paint."
The majority of Tim's work is commissioned for private collections: "Which is why I haven't been able to accumulate a body of work for a show."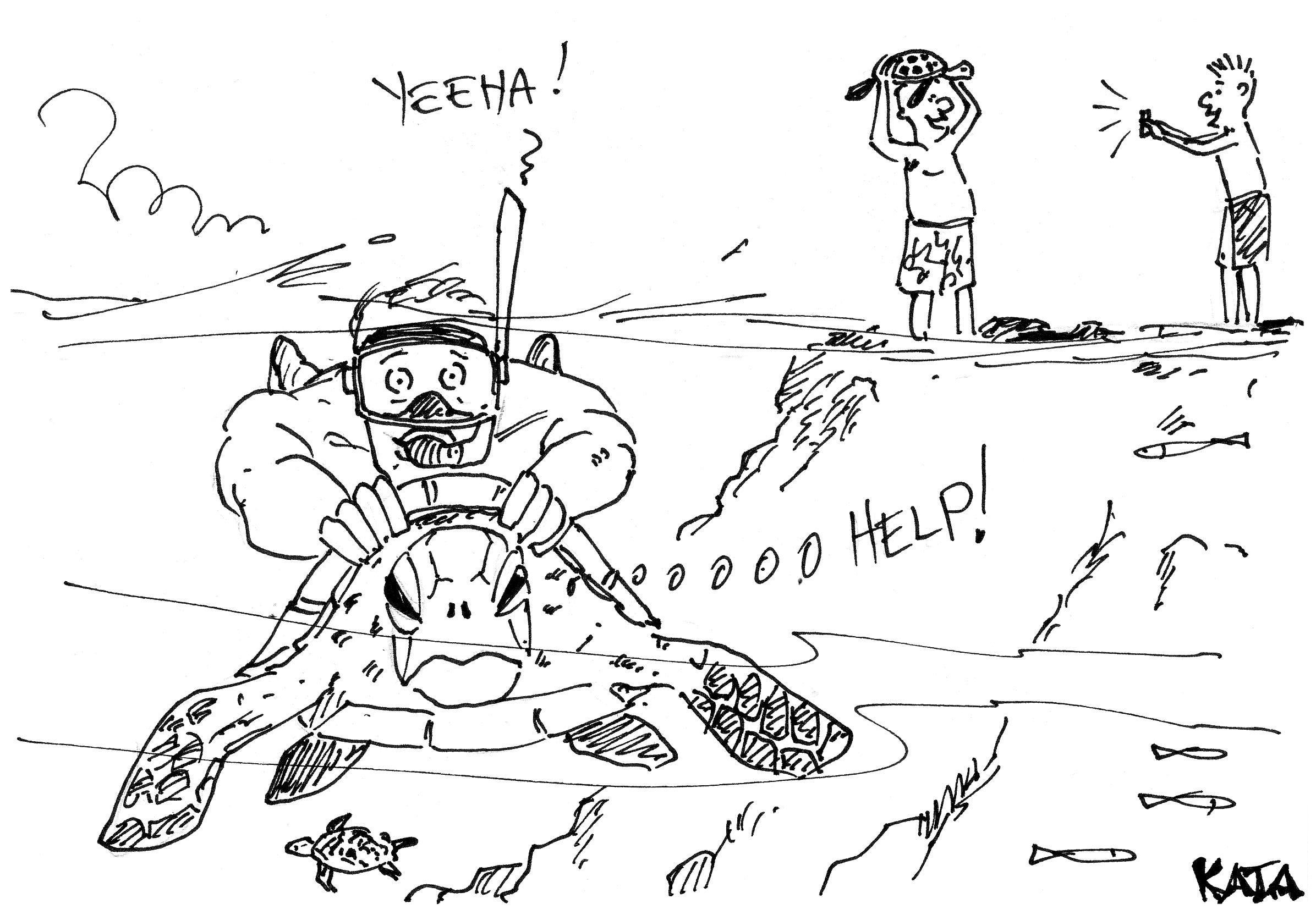 A lesser-known fact about Tim Buchanan is he has been the cartoonist for Cook Islands News since 1994 under the pseudonym of Kata. Kata means 'to laugh' in Maori.
"The first Kata cartoon was about some of our local people upset about a tourist sun bathing topless. I thought, this is ironic! Back when the missionaries arrived, we were all walking around topless and they got us to cover up; a hundred years later, we're now telling tourists to do that!"
The Kata cartoon appears daily, except Sunday.
"Normally it's on the news of the day, and is it often about politicians. They're my favorite subject."
Tim said that when he first started, the politicians didn't know the identity of Kata.
"Early on I did a cartoon mentioning parliament unfavorably, and they used that as a pretext to smoke me out!
"The cartoon was about the police arresting one of our handicap people, who go wandering. They had arrested this person for being of unsound mind and locked them up. And I thought that's poor. So, I depicted the police turning up at the door of two old people. The mama said to the papa: 'the police are here to arrest someone for being of unsound mind. And the papa replied: 'they've got the wrong address; parliament is down the road."
According to Tim, the prime minister at the time Sir Geoffrey Henry believed parliament should not be mocked, so Kata was revealed following a subpoena and summons. That incident did not deter Kata from his irreverence, and Kata is eagerly sought out daily, especially by the locals (and the politicians).
So, when are we going to see a Tim Manavaroa Buchanan exhibition?
"In next two or three years. I'll include a retrospective and a show of new work. I'm also inclined to have an exhibition of Kata cartoons."
In the meantime, Tim's artwork can be seen at various locations including the Rarotonga Airport departure lounge, Cook Islands Museum & Library, Tamanu Beach resort, the foyer of the Rarotongan Resort, and the restaurant at Trader Jacks.
You'll also find some of Tim's artwork on colourful postcards available from Bounty Bookshop and Island Craft in Avarua.
As far as the near future is concerned: "I'll keep painting. I want to do more timber sculpture and some stone sculpture".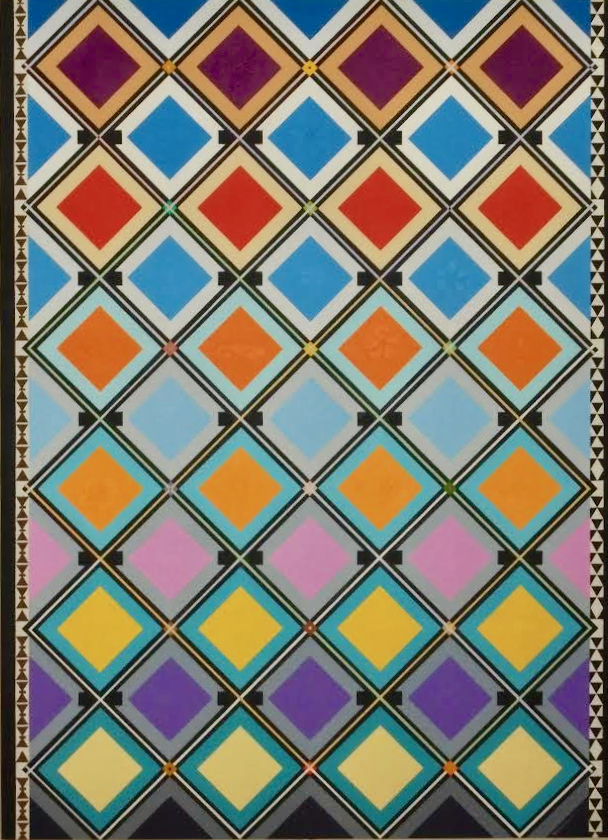 Share this story