"The great thing is we don't need to manufacture tourism in the Cook Islands!"
The Turama Pacific Travel Group is one of the most successful inbound tourism operators in the South Pacific. We're chatting here with Robert Skews, the company's managing director.
Turama means 'light and vision.' The group consists of DMCK - Destination Management Cook Islands; Island Hopper Vacations; Tipani Tours; Raro Tours; and Weddings Cook Islands.
It all started in 1990 through a partnership with Air Rarotonga and two Papa'a (a Maori term for people of European descent), including Robert Skews and Brian Baudinet.
Whilst the business developed, management and partnerships came and went, including the departure of Air Rarotonga as a shareholder in the early 2000s. Today Robert Skews and Brian Baudinet are dual shareholders.
We caught up with Turama's managing director, Robert Skews, (aka Poppa Hopper, or simply Papa to his staff) who in 2013 was presented with the prestigious Cook Islands 'Lifetime Achievement in Tourism Award'.
Robert's journey to Turama in Rarotonga really began at Air New Zealand in Auckland as a management cadet. During thirteen years with the airline he once visited Rarotonga on a relieving position, before being seconded to Polynesian Airlines in Samoa for two and half years as reservations and sales manager. That secondment had enduring consequences for his personal and professional life.
"Air New Zealand provided a general manager, traffic manager and sale manager to support Polynesian Airlines until 1978," said Robert.
Whilst in Samoa, Robert met Polynesian Airlines flight attendant and his future wife Elisapeta, known as affectionately as Mousie. One of her aunties named her Mousie, as she was so small as a baby.
"We married in Samoa in 1977 and were together over 40 years. We have five children: Mousie had three children, and we adopted two Samoan babies, Nathan and Shannon, in New Zealand before coming to Rarotonga. We now have ten grandchildren and seven great grandchildren."
The Skews made Rarotonga their home in 1990. Soon they became an integral part of the Rarotonga community, especially Robert's beloved wife 'Mama Mousie'. Sadly, in May 2018, Mousie died after a battle with cancer: "One of the many enduring things I learned from Mousie was the value of family!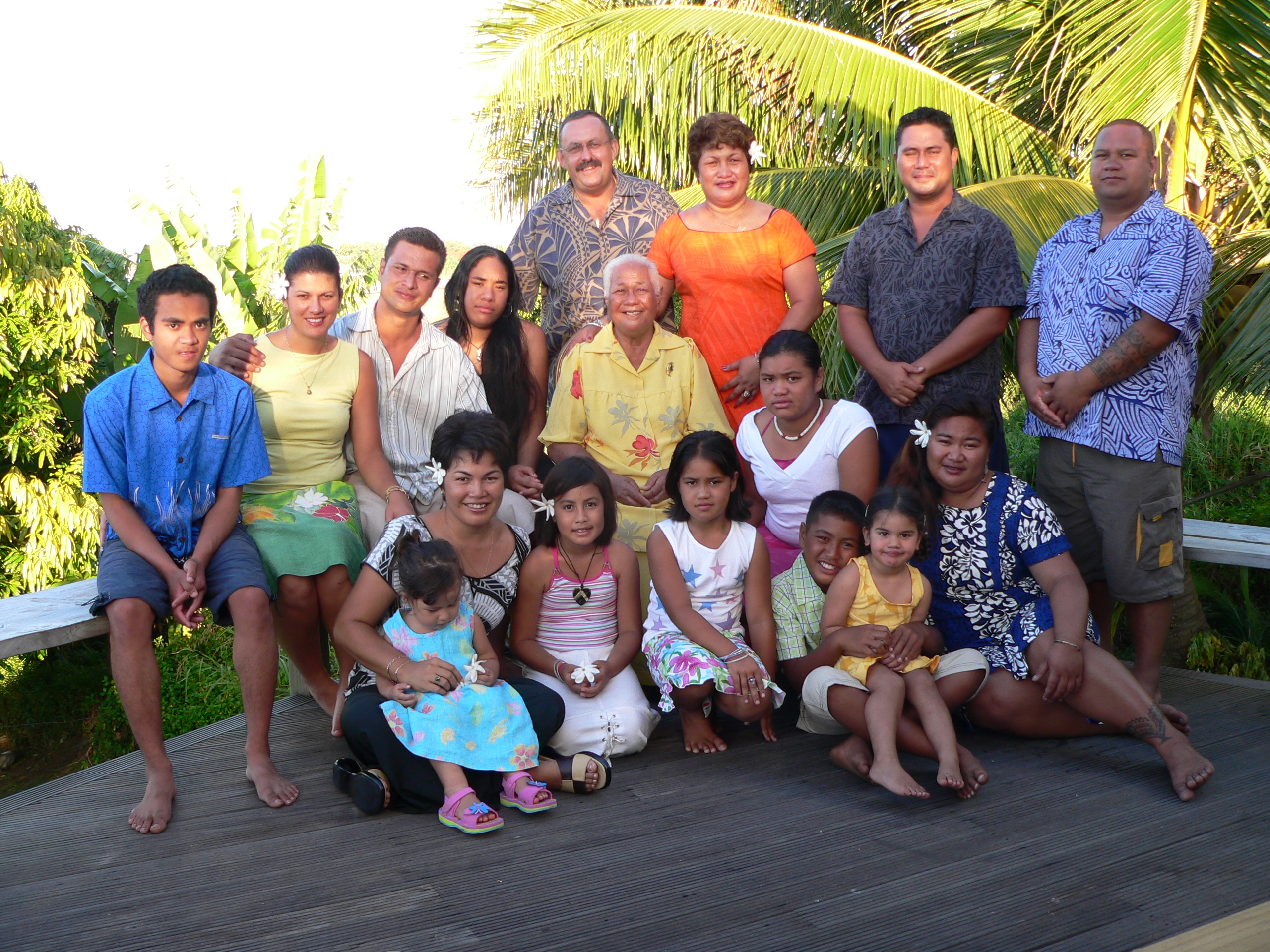 Robert is the front man for the Turama Pacific Travel Group, travelling the world to promote Turama's services, and the Cook Islands.
Robert appeared destined to live in, and work on behalf of, the Cook Islands.
"I was with Air New Zealand until 1982. I went to Papua New Guinea with Air Nuigini from 1982-1986, ending up as sales and marketing manager. I returned to NZ to work with Ansett 1986-88 as airport manager in Auckland."
Robert then ran the Hawaiian Airlines operation in NZ: "Air Rarotonga chartered Hawaiian to fly to Rarotonga, so I then set up and managed Air Rarotonga in NZ".
But Robert actually craved to work for himself.
"Smithy (Air Rarotonga's founder, Ewan Smith) needed someone to handle inbound, so Island Hopper Vacations was formed with two staff in Brian Baudinet's Budget Travel Mana Court office, May 1990.
"We soon moved near the airport as we kept running out of space."
"16 years ago we built Turama House in Nikao."
Robert Skews is entrepreneurial, and for over twenty years the Cook Islands Tourism Corporation benefited from his inclusion on their board. Robert cites Chris Wong, former CEO of the Corporation, as one of his greatest influencers; he also paid tribute to the influence of the late Dorice Reid, who served as a fellow board member.
"Chris was an amazing leader. His skill was to get out there and do the marketing! I used to follow 'Tourism' around; that is how we grew the business. I have attended ITB Berlin (travel trade show) 25 times.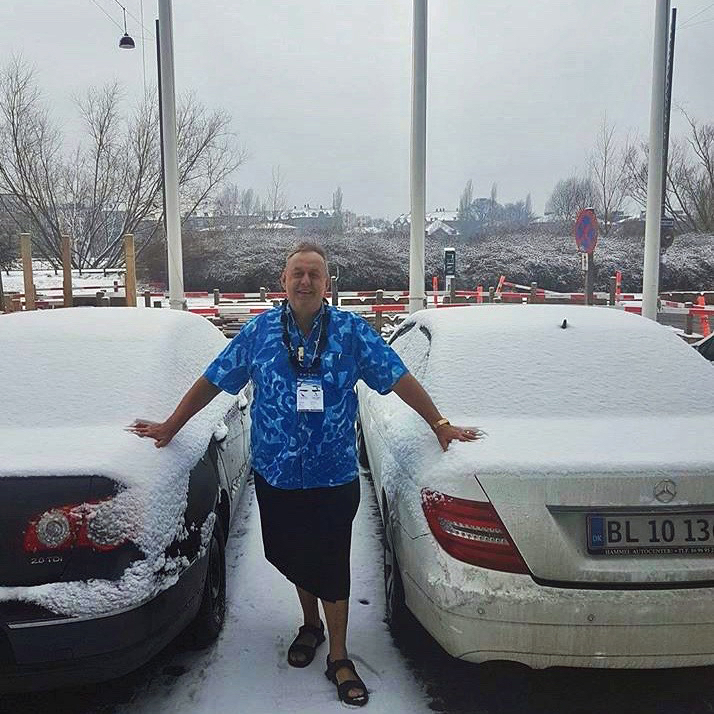 Robert's strategy has been if Cook Islands Tourism is overseas on a promotion then Turama should be there too: "And, it's worked!"
In Europe and Asia for the past five years Turama, Rosie Holidays, and the South Pacific Tourism Organisation (SPTO) have worked in partnership to run 'Meet the Pacific', an event bringing together South Pacific resort partners, tourism boards, and airline partners, with European tour operators.
One thing that distinguishes Robert Skews from his peers in Rarotonga and overseas is his choice of Samoan lava-lava (sarong) as his business and leisurewear: "Since living on Rarotonga I've worn it; it's so comfortable".
We asked Robert his thoughts on the future of Cook Islands inbound market.
"My concern is that we lose our uniqueness. We are 'boutique' - we don't have the Sheratons and the Hiltons, and we don't need them. This is our point of difference. But, we really are struggling on Rarotonga with infrastructure and there needs to be brakes put on accommodation development.
"Also, we need to find ways to develop the outer islands. The great thing is we don't need to manufacture tourism in the Cook Islands!"
Robert said he would like to see better Los Angeles and Sydney services with at least two flights a week: "Another option is maybe to have Fiji Airways link Australia through Fiji to Rarotonga; I think that could work!
"You know, I love this industry. We just need to be more careful about the bringing in plastics, noisy bikes and cars, and jet skis in the lagoon! Let's keep our pristine image; it's our advantage!"
Share this story