A special occasion in Cook Islands history: the first and only person ever knighted on Rarotonga soil, Sir Albert Henry, then Prime Minister of the Cook Islands, receives his knighthood from Queen Elizabeth II during the royal visit to Rarotonga in 1974. All the dignitaries in the room, including Her Majesty, wear neck 'ei. (Image by B. Johnson; CILAMS collection)
Visitors to the Cook Islands will no doubt be greeted upon arrival with one of these lovely floral creations, called 'ei, which are typical to the Cook Islands, Hawaii and Tahiti and her islands. Since ancient times, 'ei have been used to mark special occasions, special people and special objects.
In the Cook islands, 'ei are used on many occasions, including receptions to welcome or farewell dignitaries, at graduations and even at funerals. 'Ei are a symbol of friendship, love and respect. 'Ei are also used by Cook Islanders in their everyday dress. 'Ei can be worn day or night, on special occasions, or just for completing one's dress when going out.
Neck garlands are called 'ei kaki or 'ei karaponga in Maori and a head wreath is 'ei katu or 'ei upoko. 'Ei today are made from flowers such as frangipani, gardenia and the native tiare maori (Gardenia taitensis) and the leaves of the maire plant (Allyxia stellata). Shell 'ei, bought from shops, are used to farewell guests, family and friends. For new arrivals, natural flower or leaf 'ei are used.
In ancient times 'ei were fashioned from many different materials including shells, hair, feathers and flowers. The pendants of special necklaces called ti'a, which were kept as heirlooms, were made of long-lasting materials such as bone, whale teeth and stone.
Besides wearing and giving 'ei, Maori people of the past placed 'ei, as a sign of homage and reverence, on their god images and also used 'ei to decorate their marae (temples). Today a similar practice continues with 'ei placed on the graves of loved ones, and 'ei used to decorate the ANZAC monument in the civic centre, as well as by Catholic Cook Islanders to adorn the statue of the Virgin Mary in front of their churches.
'Ei comes from the proto-Polynesian word sei – which became 'ei or rei in the maori language of the Cook Islands. In other Polynesian languages it is hei (New Zealand Maori, and Tahitian), and lei (Hawaiian). 'Ei kura or rei is the Cook Islands Maori word for sacred charm or talisman necklace. To ta-ei is to cause to be garlanded.
A popular Cook Islands song, about a date that didn't go as planned, emphasises the value of 'ei in completing one's dress for a night on the town. The 'ei is likened to the beauty of the woman who would have been wearing it (but she did not show).
Moumou to manea, e to ei tiare
Toku tiaki'anga rai ia koe...

Your beauty is wasted, as is your garland of flowers
When you left me waiting...
(from the song "Kua iti te marama" composed by Tom Tixier & Turepu Turepu, 1970s).
'Ei-sellers were once a common sight on the road in front of the Banana Court in Rarotonga in the 1970s and on the road outside the Maruaiai, a dance hall of the 1960s & 1970s. Now the sale of 'ei is confined to Punanganui Market, or a stand at the airport, or are bought directly from known sellers (who sometimes advertise in the daily newspaper).
Many 'ei varieties used to be worn but are now seen only rarely or on special occasions. These historic photos recall those earlier days
See these and other historic photographs of the Cook Islands at Museum Cook Islands (Library & Museum Society) in Avarua, opposite University of the South Pacific. Open Monday-Saturday 9am-1pm & Tuesday 4pm-7pm. Tel: +682 26 468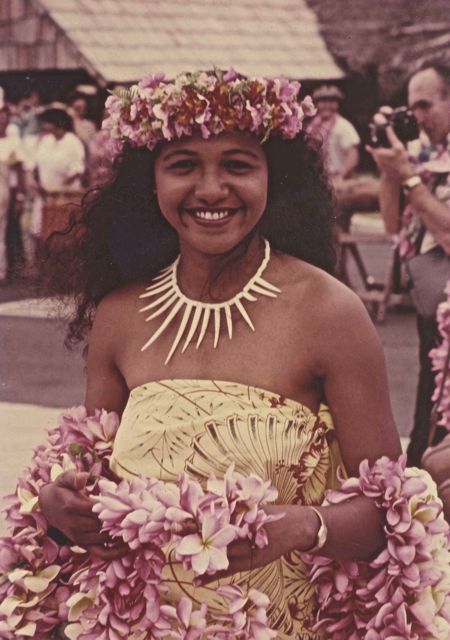 A young Doreen Kavana decked out in 'ei as she waits to greet arriving passengers at Rarotonga International Airport. (1970s, photographer unknown; CILAMS collection).

Share this story