"I love it! If I could live down there, I would live there forever!"
Kura Happ is a gifted and artistic Rarotonga-born vocalist, guitarist and songwriter whose performances around the island's music scene are soulfully entertaining and spirited.
She is one of those unique restaurant entertainers who performs in an unpretentious yet eye-catching manner at a sound level where you can both appreciated her sweet music and enjoy your meal. But, Kura wasn't always this way!
Kura Happ has been on a musical journey since she was a young child when her grandparents brought her along to church to sing with the choir.
Born in Rarotonga, raised in Sydney, Kura began her musical pathway learning the piano but soon changed to the guitar as her primary choice of instrument.
As a teenager still at school Kura and her sister Leilani practiced their musical skills busking during the holidays in Sydney's busy shopping district around Pitt Street, the Town Hall and Central Station, and also nearer to home at Hurstville and Cronulla.
"My best friend is my sister. We're both singers. I would play guitar and she had the ukulele.
"We'd carry those little fold out stools with our instruments on our backs and a little Djembe drum. We'd walk around and set up at the best place; no sound system just acoustic".
Kura said they played different styles of music from the R&B music of Destiny's Child and TLC, to Dr. Hook, The Eagles, Cat Stevens and Bob Dylan (influenced by their parents taste in music): "I love Dr. Hook!"
"My mum was the one that really got us into our music. She can play. And, she took us to musicals like Miss Saigon, The Lion King and Ipi Tombi. There was so many I can't remember them all!"
Kura and Leilani ultimately became a duo R&B group called Brown Sugar for a period with some success around the club circuit.
"We did a few big shows, we recorded, and we played on daytime and late night TV shows."
Kura later joined a group called Indigo: "It was a really good band, but I was also in other groups."
When Kura's mum and dad retired they returned to Rarotonga; Kura moved back and forward until eventually settling back in her homeland when she was 23.
Kura met local musician Kahiki: "I have to say he really helped me with my different skills on the guitar."
For the past fifteen years Kura Happ has become well known locally as an individual performer around the music scene presenting her own distinctive style. She has also performed internationally.
Kura is also half of one of Rarotonga's most popular and accomplished acoustic percussion duos known as Trigger Fish, with Maurice Newport (Mo). They perform a mix of soul, reggae and jazz in both small and large venues. Kura is on guitar and vocals, and Mo on the Cajón (a box-shaped percussion instrument originally from Peru): "It's really cool, I've got one too!"
"I love the music scene in Rarotonga. I think it is amazing. The only thing is that all the good stuff, and all the good musicians I like to watch are working the same nights that I play!
Recently Kura has expanded her horizons starting a unique 'eco' venture called Ariimoana (King of the Ocean).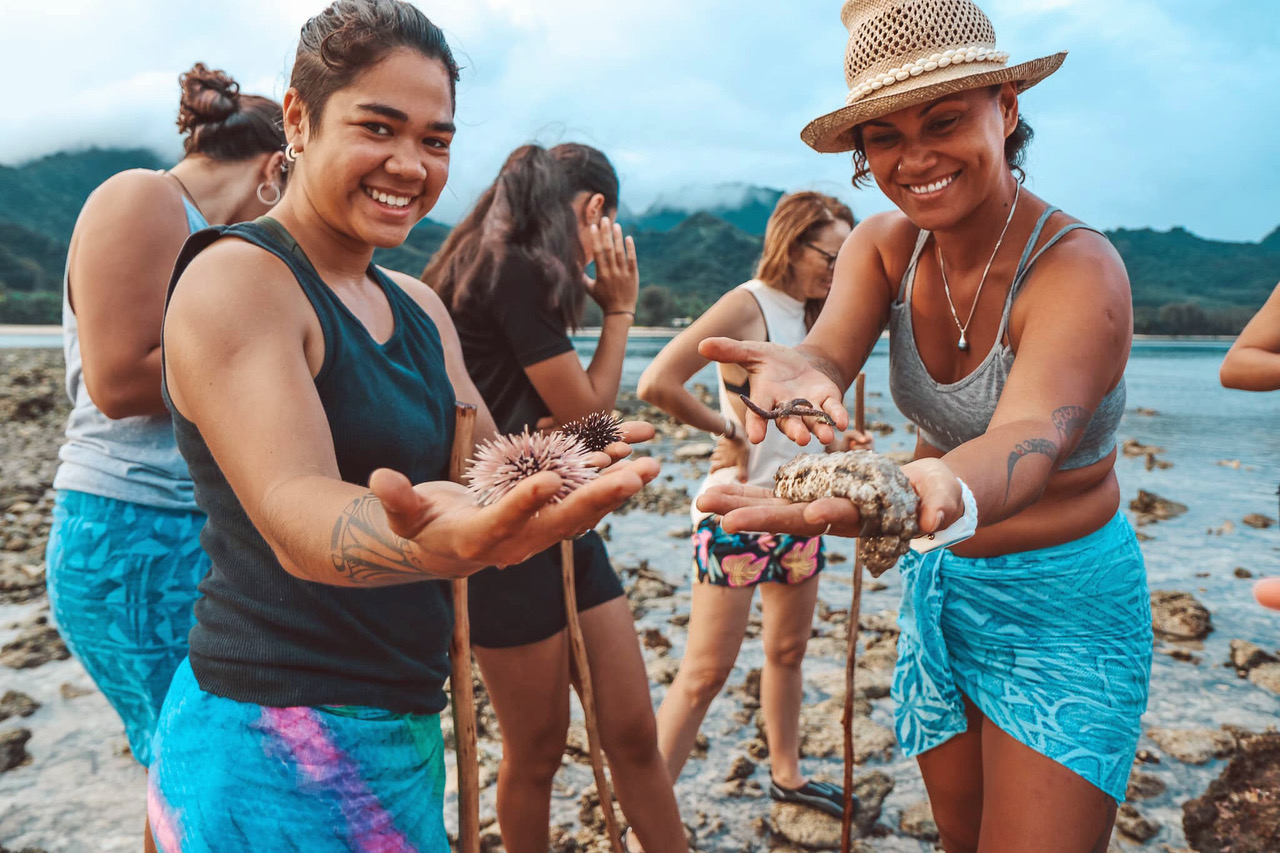 Image: Alisha Street

"I'm quite an outdoorsy person. I love being in the ocean: swimming, diving and free diving. I have my PADI so I can go scuba diving, but I prefer to free dive with my friends. The deepest I have been is about 20 metres.
"I love it! If I could live down there, I would live there forever!"
Working for Captain Tama's Lagoon Cruizes at one stage as 'Captain Happy' exposed Kura to visitors, contributing to her confidence speaking as a tour guide, and supporting her believe that she could create a business focussing on her love of the ocean.
In 2019, Kura began Ariimoana walkabouts. The Ariimoana reef walks are designed to explore the lagoon's marine life close up. The walkabouts last around three hours during low tides.
"We go on the reef at low tide, the safest time, and talk about all the marine creatures we find like octopus, sea urchins, the corals, and share stories about how the locals use to live fishing in the reefs. All those stories my grandparents use to share with me. My papa was a fisherman. I was raised on the beach!"
If you are interested in the Ariimoana reef walks call 70 070. More information is on facebook.com/ariimoana.walkabouts.
Kura Happ is the real deal! Amazing entertainer and now 'eco' tour guide. It's going to be difficult not to come across Kura if you love the best things Rarotonga has to offer – local live music and the pristine lagoons
Share this story