"Throughout his time in Rarotonga, Eggelton has made considerable contributions within tourism at various levels".
From airport designer to tourism entrepreneur, Des Eggelton has led an eventful life.

As a young man he was employed by the New Zealand Department of Works when given the opportunity to work in the Cook Islands during a significant time as Rarotonga Airport was being readied for the future of tourism in the islands.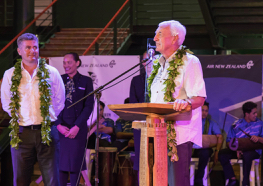 Justifiably, the engineer turned businessman, hotelier, and benevolent adviser, has been acknowledged decades later during the 2018 Air New Zealand Cook Islands Tourism Awards with the prestigious 'Lifetime Achievement in Tourism Award.'
Throughout his time in Rarotonga, Eggelton has made considerable contributions within tourism at various levels.
As an influencer, never totally comfortable with the limelight, Des Eggelton has been known to both applaud and criticise elements of the tourism industry and the authorities over issues that count, including the governance of the country.
Des said he'd like to see a simpler political system and government arrangement.
The confidence in expressing his views comes from years of battling to develop his own businesses, and helping others do the same in the Cook Islands.
Christchurch-born Desmond Bey Eggelton made his first appearance on the Rarotonga scene in 1970 as a young designer working on Rarotonga Airport.
"I didn't know much about the Cooks then, but I figured if they were spending $11m on airports, there must be something there, so I applied for the job and was appointed manager of the design office. I was 26," said Des.
"The airport had a 3000-foot strip of coral, a bit like some of the outer islands have now. It was designed initially for DC8s and Air New Zealand were moving into DC10s requiring additional length. Our job was to develop it to an international standard with side and end clearances.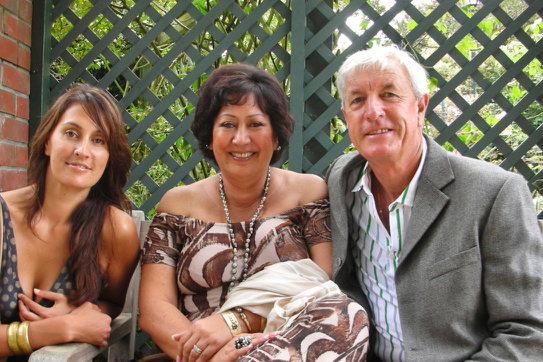 Des' posting to Rarotonga lasted only 15 months, but his life changed forever during that time having met his future wife Cassey Tereapii (pictured centre, with daughter Liana and Des).
Whilst working on the airport, Des was accommodated in a single-men's hostel, where the Parliament is today.
"There was a great social scene, particularly around the New Zealand High Commission. We also went to parties and dances to meet local ladies; I met one I was very attracted to, Cassey, who was a dancer".
Des explained that the top dancers from each village were brought together to form a troupe under the celebrated local choreographer, Turepu Turepu. Cassey was one of those dancers.
"Cassey was schooled in New Zealand. I met her when she returned following her father's death, to help out in the family bakery and shop in Matavera.
"We met at a party, and her sister, who was a policewoman, warned her to keep away from those 'nasty airport boys', so it was a bit of a challenge!"
When Des' posting finished in 1971 he returned to New Zealand asking Cassey to return with him.
Des said it was a difficult decision for Cassey because her mother didn't want her to go, and she had just been selected for a dance troupe that was to perform in Paris. All Des could do was leave a ticket to Auckland for Cassey and hope for the best.
"Six weeks later Cassey joined me in New Zealand".
Des was appointed to a Ministry of Works Office in Auckland.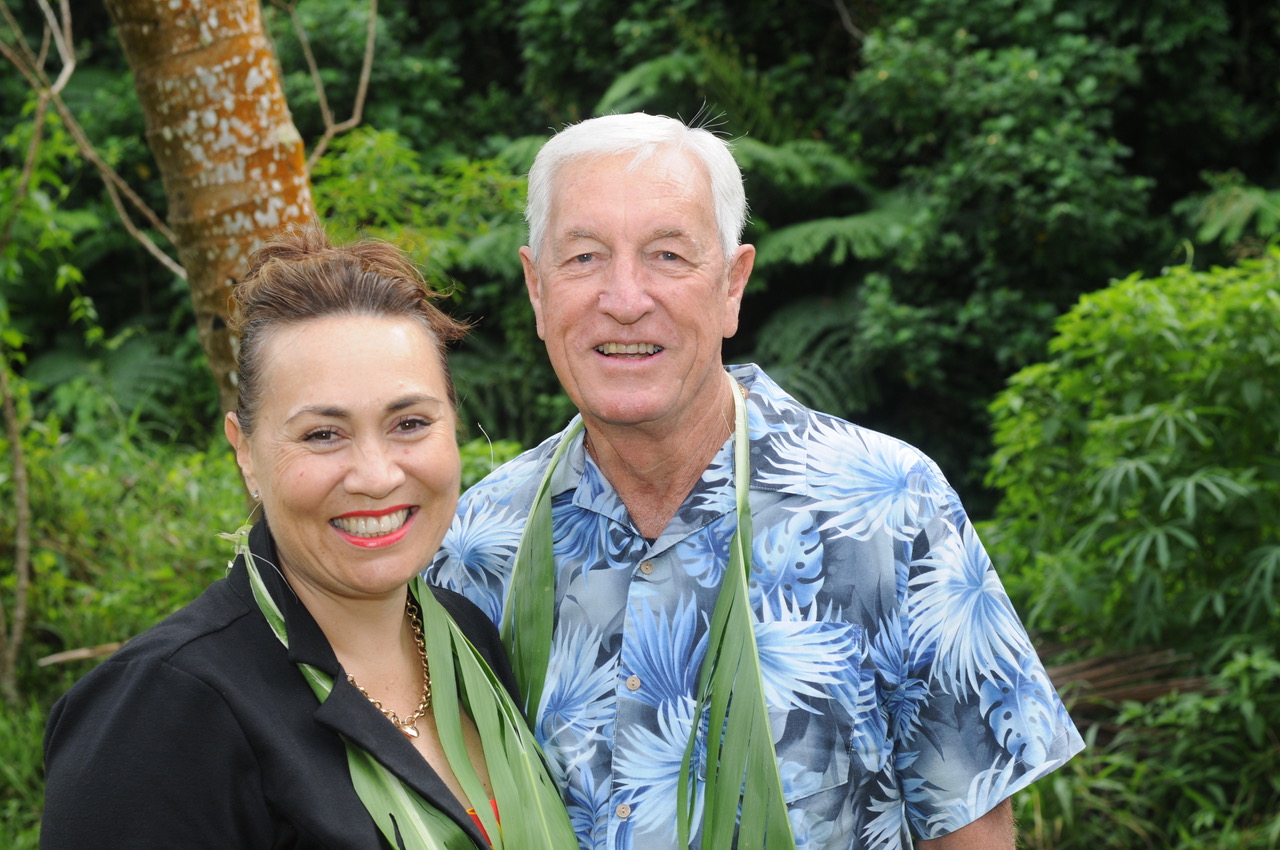 Cassey and Des got married in 1974. In the next two years, their daughters Karla and Liana were born. Today, Karla (pictured left with Des) is the acting chief executive officer with the Cook Islands Tourism Corporation, and Liana in recent years moved to Rarotonga with her family from New Zealand; she and her husband own a modelling agency, Clyne International; her husband commutes monthly. Liana has also taken up the position of accreditation officer for the tourism accreditation system in the Cook Islands.
Today, the entire Eggelton family resides in Rarotonga.
"After my time here in the early 1970s, I had always wanted to come back," said Des.
"We purchased a motel in Christchurch to learn the business, hoping to return to Rarotonga into tourism accommodation.
"I was still working for the Ministry of Works in Christchurch, my hometown, and Cassey ran the motel.
It was from Christchurch that Des applied for the job of Station Works Officer in Rarotonga, which he knew was coming up in 1980.
"I got the job but took quite a salary drop, but it was a 'win, win' for us because we were coming back, and I would be employed by the New Zealand Government.
"Cassey was just happy to be back with our two kids. We lived above Tereora College in one of the Ministry of Transport homes".
Soon Des attended his first Rotary night with his brother-in-law, who was President. That night he met Jeff Porter, who owned Puaikura Reef Lodges, who in turn introduced him to Eddie Arkle, who had Lagoon Lodges, and who wanted to sell. According to Des they got drinking and by 2am he agreed to buy the property!
"Lagoon Lodges had been on the market so I knew about it. I took the next day off work and went to the bank, the lawyer, and the accountant. By 5pm, I had put a cash deposit down. This was November 1982".
Lagoon Lodges had four houses that originally lodged the contactors building The Rarotongan Resort. Des soon took out another bank loan and built six more units, and a swimming pool.
In 1985, Des started building a house for his family at Lagoon Lodges.

"We got into the home in 1987 living. I finished up then with the Ministry of Transport.
"The next 26 years we stayed at Lagoon Lodges, continuing to borrow and build, ending up with 22 units. I always had this thing of putting money back into the business. In 1999, then Prime Minister Sir Geoffrey Henry congratulated me as there was a big downturn in the economy, and I was building new units!"
On 2006, Des sold Lagoon Lodges to Tim Tepaki, a Cook Islander who has been involved in property development in New Zealand.
The Eggeltons had already moved into a new family home in Matavera in 2005.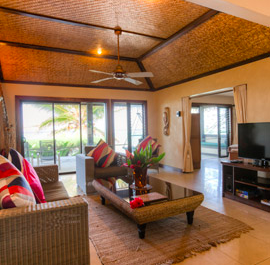 "About this time, Rendezvous Villas (pictured left) had come up. It has two spacious villas each with its own swimming pool, right on the beach.
Des' other property Te Vakaroa Villas (pictured below left) is also in the luxury category.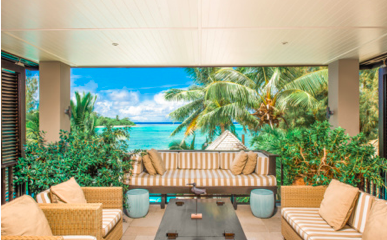 "We had the land for three or four years. My partner in this venture put an offer to us to build Te Vakaroa, a gated property with maximum 18 guests. We started in 2006 and finished it in 2008."

Since Lagoon Lodges, Des has been inextricably involved in the Cook Islands tourism industry.
In the 1980s he represented the Cook Islands on a roadshow in Canada; he started the first accommodation marketing/reservations group in the islands; and, with others, created the Accommodation Council, becoming its first chairman.
During the 1990s, Des counts among his achievements being President of the Cook Islands Chamber of Commerce for four years; served on the steering committee of the Accreditation of Tourism Businesses for eight years; and being appointed by the Prime Minister to the 'Tourism Steering Group'.
Between 1996-2004 he served as a director of the Cook Islands Tourism Corporation. In 2008-9 he became Chairman for a short time.
"As soon as my daughter became involved with Cook Islands Tourism Corporation I stepped away."
Throughout the 2000s Des used his design and project management skills to assist in the construction of accommodation properties and homes in both Rarotonga and Aitutaki, including Little Polynesian Resort.
Today, according to Des, the biggest change in tourism is the Internet.
"When I started we worked with wholesalers; we paid to be in a brochure and they went out and sold us. Today it's about OTA – online travel agents. Many homes on the Internet today would not have survived, or even happened years ago. Not just Airbnb, you can even put a home on booking.com or Expedia.
"In a good way this has provided the opportunity for more Cook Islanders to be involved in tourism, and to receive some reward from it. This is biggest change that I have seen in tourism."
Des now also enjoys helping people around the property scene, with evaluations, rental reviews, and land court lawyers.
"Bankers have been accepting my evaluations and reports for the last ten years. It's interesting and it's diverse and it keeps me busy", Des said.
"There are not many people doing this sort of thing, so I'm happy to help.
"I have always liked supporting communities, businesses and organisations wherever I could to help strengthen tourism in the Cook Islands"
Share this story