Farm Direct Pearls' Temu and Lesley Okotai have a long established connection to the source of Cook Islands black pearl industry, the island of Manihiki, where they operate their own pearl farm.
Situated in Harbour House on the main road at Avatiu Harbour, the Farm Direct Pearls showroom exhibits an attractive range of black pearls and jewellery. We asked Temu and Lesley Okotai, a few questions about their lives and their livelihood.
Temu and Lesley met as students in Christchurch in the 1970s. After graduating they returned to Rarotonga where Temu worked as marketing manager for what is now Cook Islands Tourism, and later he took over the management, and Lesley taught at local primary schools.

Temu then sought out jobs in the private sector in New Zealand and Papua New Guinea while Lesley taught at an International school before returning to Rarotonga eleven years later with their two children to ensure they would connect with their Cook Islands' heritage.

Temu was Chief of Staff for former Prime Minister Sir Geoffrey Henry for nearly eight years, whilst Lesley continued to teach.
Describe the Farm Direct Pearls business operation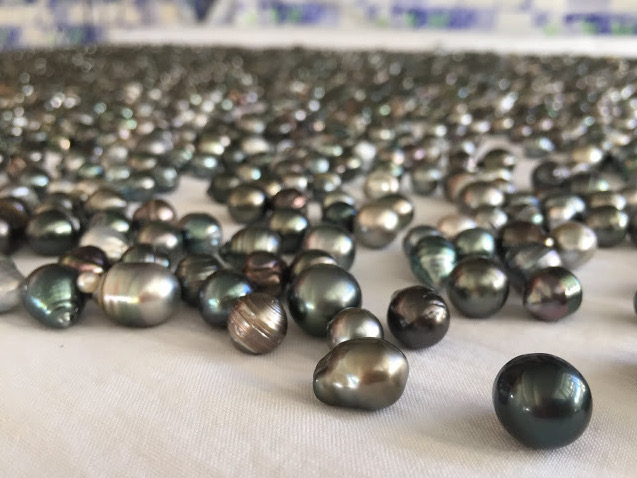 We became involved with black pearls through Temu's Manihiki connection with his father and brother operating a pearl farm, but with no business or marketing experience.

Almost twenty years ago we decided to start a retail outlet to sell the pearls, and to sell pearl jewellery in an old colonial house owned by CITC. When CITC built the Building Centre on that site we moved to the shop next door so that our overseas customers could still find us!

We have expanded our range of black pearl jewellery considerably since those humble beginnings. Today we cater for all tastes and for all budgets: from inexpensive lower grade pearls with simple settings, to sophisticated, elegant designs with top quality pearls set with 14 and 18 carat yellow and white gold.
How do you differentiate the quality of Cook Islands black pearls?

Top quality pearls are high in lustre with clean surfaces; that is no imperfections visible on the surface in contrast to lower grade pearls that may have blemishes visible on the surface and may also have a dull surface or matt look which means they lack lustre.

We always advise our customers to read the Certificate of Authenticity before making a purchase. The Certificate of Authenticity informs them of the grade of the pear: Perfect, A, B, C, D, quality, size and shape, so they can compare prices and see how each attribute affects the pricing of each jewellery item.

Cook Islands Black pearls are defined as such because they grow in the black-lipped oyster shell. In a harvest we find a wide range of exquisite colours: for example peacock green, gold, silver, bronze, green, and aubergine. Some have a beautiful rainbow of colours. Those with good lustre will reflect the colours we are wearing.


The name 'black pearls' is a misnomer because few are black in colour. Some people have the misconception that the darker they are the better. Colour is very much personal taste relating to such things as colours we like to wear, hair colour and skin tone.
Tell us about the development of the black pearl industry in the Cook Islands?

The farming of the black-lipped mother of pearl oyster started in the Cook Islands in the Manihiki lagoon in the mid 1960s. Peter Cummings, who was involved in the harvesting of the Golden lipped shells in Broome, Australia, observed the Japanese start to seed the golden-lipped oyster for pearls; he came to the Cook Islands and started a farm in Manihiki.
Cummings successfully produced beautiful black pearls in the Manihiki lagoon, but because of disagreements with the island Council, he closed the farm and left the island. It was not until the mid 1980s when pearl farming resumed in the Manihiki lagoon, when the late Papa Tekake Williams and Yves Chen Pan from Tahiti started their own separate farms, almost at the same time.
The rest is history: the 1980s and 1990s became a boom period in pearl farming in the Manihiki, Penrhyn, and Rakahanga lagoons. By the mid 1990s there were nearly 300 pearl farms operating in these lagoons, and export value for black pearls was close to $20m.
Unfortunately in 1997 Cyclone Martin destroyed much of the Manihiki pearl infrastructure. This was followed by a drastic downturn in world prices for pearls, and combined with a few spells of unfavourable lagoon conditions, saw many leave the industry.

Today only the few with well-managed and substantial farms are able to continue farming, and only in the Manihiki lagoon.
What is the process of pearl cultivation on Manihiki?
The Manihiki lagoon has always been an ideal environment for the black-lipped mother of pearl oyster. Before pearl farming started in the lagoon the shell has been a lucrative export, which was harvested regularly on a 3 -4 years intervals. Another advantage of pearl farming in the Manihiki lagoon is the ideal growing condition for spat collection for the oyster. Much of what we learnt in pearl farming in the Cook islands we learnt from Tahiti and Japanese technicians who worked in Manihiki.
Today we have both foreign and local technicians working in the Manihiki lagoon, and many foreign workers are employed by farmers to work on their farms.
What is most often received feedback you get from buyers of Cook Islands black pearls?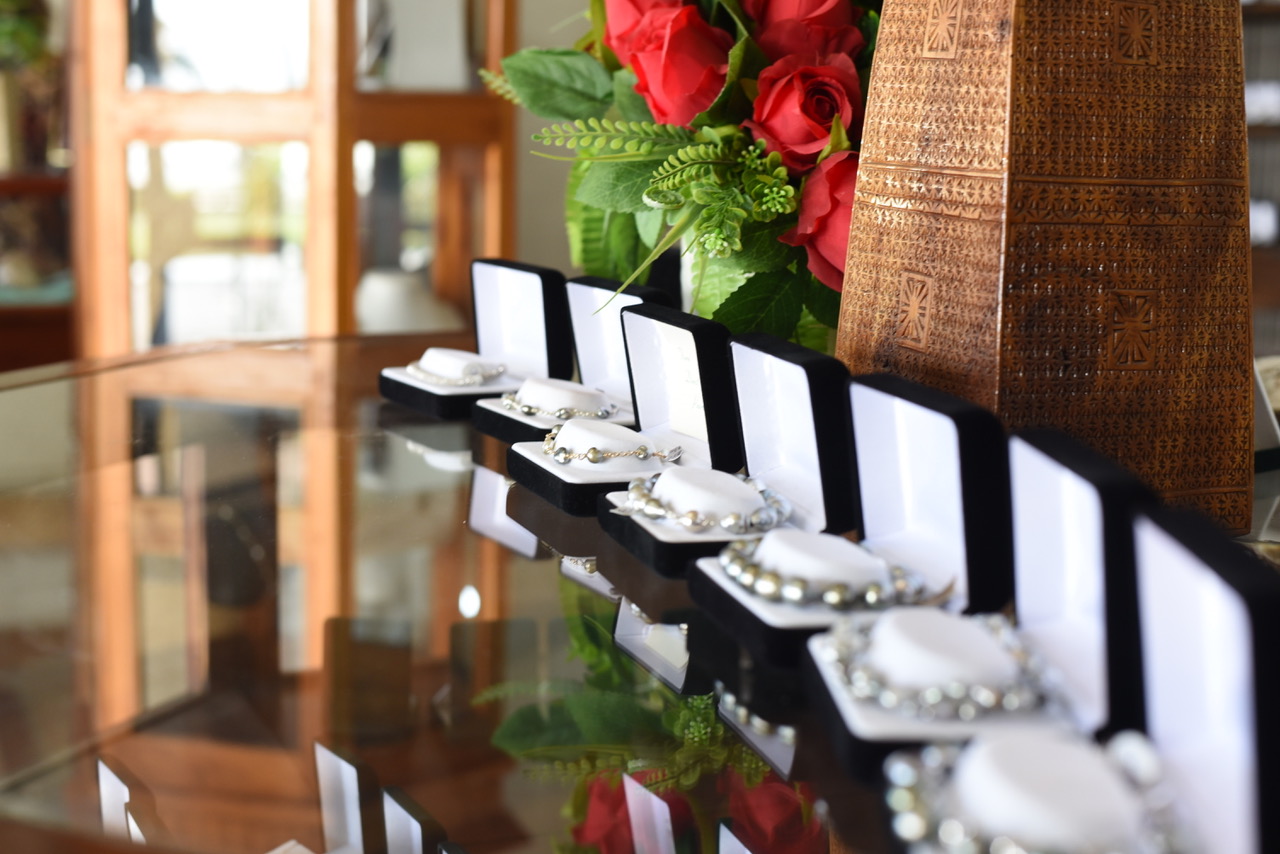 People who have bought Cook Island black pearls from us tell us how much they love them, and that they receive lots of compliments about their Cook Islands black pearl jewellery
Share this story