"It's a hands-on operation and that is how it has survived to this day."
Kevin Cook, the founder of Cook's Island Bus Passenger Transport Ltd, was recognised at the 2016-17 Air New Zealand Cook Islands Tourism Awards for his contribution to tourism.
From simple beginnings, New Zealand born jack-of-all-trades Kevin Cook was destined to succeed in the Cook Islands, a nation that opportunely carries the Cook family name.
His first sighting of the Cook Islands was not from the HMS Endeavour like his namesake Captain James Cook, but from the passenger cargo ship Akaroa. Kevin Cook was bringing his daughter home to visit her grandparents in 1968.
"We were meant to come for a month, but I didn't get back to New Zealand for four years, and by that time I had my permanent residency", said Kevin.
As a youngster growing up in New Zealand, Kevin's first job was working for a plumber-builder.

"Then I worked as a mechanic's assistant in the garage of a trucking company in North Hokianga. I learnt a lot there and picked up the nickname 'Rusty' because I used to paint cattle crates and truck chassis with red lead paint, so was always covered in red."
Now in Rarotonga in the late 60s, "I was working for my then, father in-law in the family business shop called Personality House in Avarua, where I was assembling and selling furniture and paint, along with motor bike parts. Later, the family set up a duty-free shop which I managed."

"I also started a screen printing business, printing the first 'Tangaroa' t-shirts. The company was called South Pacific Arts Ltd, included men's shirts, t-shirts and pareu's."
This was an industrious time for Kevin Cook: He started a push bike hire business and also set up a shop called 'Top and Bottom Boutique' selling locally manufactured clothing along with imported garments.

"In 1977, we leased the property where Cook's Corner now stands and developed the first stage along with a friend, Ron Hall, who was the builder. Cook's Corner is named after my family.

"In 1988, we redeveloped the second stage, which included the courtyard area. I wanted to encourage more people to come to Cook's Corner, so I thought a good way to do that would be to set up a bus around the island that started and finished there. There was no public bus transport at the time".
So in 1989, Kevin bought a 15-seater Mazda van from The Rarotongan Hotel, did it up mechanically and had it re-painted with a sign on the side, 'Cook's Corner'. A bus timetable was set up and the rest is history!
"We started off with the Clockwise bus service, scheduling stops at the main hotels. After about a month we blew the motor and had to charter a bus. The bus service had become quite popular and it showed me that I should go to a bigger bus, so in 1989-90 we bought the 25-seater bus from Kiikii Motel".
"We introduced an old-age pensioner pass so they could travel to town and collect their pension and travel back home free, which we still have today but with conditions apply. We don't get a lot of locals on the buses, mainly Cook Islanders who have spent time overseas who are used to the public transport system, and overseas workers. Today, we carry mostly school children, workers, and of course, tourists.
"Soon we decided to introduce the Anti-Clockwise schedule to offer more choice and frequency; then the night schedule. We are really set up as a public transport system.

"The names Clockwise and Anti-Clockwise became very popular with the tourists.
"Some believe there should be a public transport system in Rarotonga, and it is acknowledged by Government that we have taken that pressure off them. We receive no subsidies."
Kevin appreciates the support he has from the hotels and tourism industry.
"Most of our drivers are long term as we require them to be, for safety plays a very important part in our operation. In the fleet we have twelve buses with each bus numbered and named after a family member such as Francy Baby, Bumble and so on.
"Cook is a useful name to have in the Cook Islands, though many think we're owned by the Cook Islands Government, but we are 100% family owned and operated. The apostrophe in Cook's Island Bus indicates the company is owned by the Cook family.
So what does Kevin think about his Lifetime Achievement Award: "Very proud and honored to be nominated, and to receive it. Didn't expect it but very much appreciate it.
"We developed from simply being a promotion for Cook's Corner to a vital public transport system. We took a fledgling bus company and built it. It has given our family a future: "It's a hands-on operation and that is how it has survived to this day."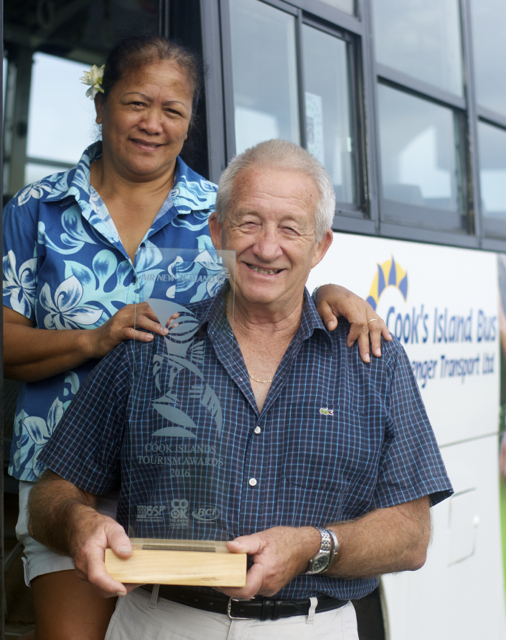 "Our son Danny is now general manager of the business. He's learning the ropes. Frances and I have been dedicated to this business for many, many years. In a couple more years, I would like to retire and I would like the family to be more involved and continue with the business. Public transport is needed here and it is an important part of the infrastructure of the Cook Islands"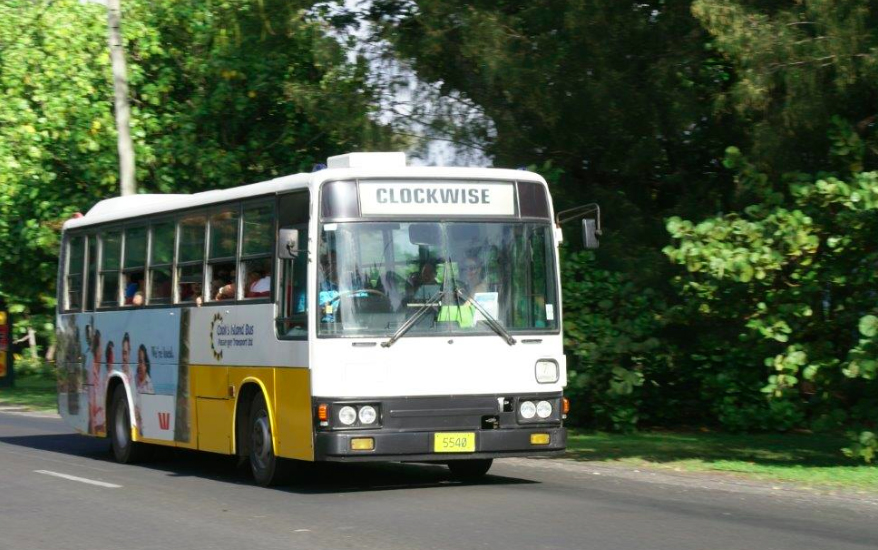 Share this story